I like hard alcohol.  I tend to drink vodka, rum and tequila.   Occasionally, I will drink champagne, desert wines, ports, whiskey and beer.  Wine doesn't appeal too much to me.  All of that cork sniffing, wine swirling, sniffing and slurping is annoying.  Which is not to say that I don't like a good glass of wine every now and then; but, after working in a restaurant, it gets old.
My first foray into ciders was when I was a kid drinking Martinelli's Apple Cider.  It tasted good and it had bubbles!  Since then they've branched out into all kinds of apple variations:  Cranberry, grape, mango and now pomegranate.  I tried the Apple Mango Cider the other day.  After being traumatized as a child by being forced to eat a whole mango when I only wanted to taste it, I tend to shy away from things with mango in it.  The Apple Mango Cider was better than I thought it would be, but I wouldn't get it again.
I've been loving all things pomegranate, so I was tickled pink to see the new Apple Pomegranate Cider by Martinelli's.  The Apple Pomegranate was good but the Pomegranate was too subtle for my taste.  My all-time favorite is still the Apple Cranberry.
For holidays, the family drink has been Apple Cider.  As a child I got to drink my cider in a wine glass which was really cool.  Since it is often down to just me and my Mom now, I've taken to throwing in frozen fruit to the cider.  Frozen fruit is a nice was to keep your drink cold without diluting it.  For brunches, I thrown in light summer fruits like peaches and strawberries.  For dinners, I add fuller bodied fruits like blueberries, blackberries and a couple raspberries.  The cider soaked fruit also makes for a nice treat when you reach the bottom of the glass.
SPARKLING CIDER MOCKTAIL
INGREDIENTS:
8 oz non alcoholic cider
1-2 tablespoons of frozen fruit (berries, peaches, strawberries, etc.)
RECIPE:
1. Place frozen fruit at the bottom of a martini glass
2. Add cider to fill glass
3. Enjoy
While I am on the subject of cranberries and cider, it would be a travesty if I didn't bring up Trader Joe's Spiced Cranberry Cider.  It is delightful!  When heated, it goes great with desserts or in lieu of a cup of tea.  TJ's Spiced Cranberry Cider will quickly become a holiday staple.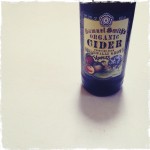 Unfortunately, I have yet to find an adult cider I like.  I've tried many and turned up my nose at all of them.  Just yesterday I tried Samuel Smith's Organic Cider that I found at Whole Foods.  Again, I found it too dry.  I ended up adding a couple splashes on cranberry juice and it was then quickly finished.
All in all my standby for non-alcoholic fun is Martinelli's.
Next week . . . RUM!  *licks lips*
© 2011, the superdiva, dk. All rights reserved. www.thesuperdiva.com