Oh Thanksgiving! Last year I used some Thanksgiving recipes from Ellen's vegan chef, Roberto Martin. He even had a recipe for your own seitan loaf. I made my first seitan loaf and mashed sweet potatoes. I found the seitan loaf lacking in seasoning and the sweet potatoes used way too much butter. I was completely disappointed.
This year, I bought a tofurky vegetarian roast. I think my Mother and I tried a Tofurky roast many years ago and it was awful! Lately, though I have thoroughly enjoyed their peppered and smoked tofurky, hot dogs and sausages. Many Tofurky products tend to be lower in sodium than other meat substitutes and Tofurky doesn't use soy protein isolate.
There was a study done by the Cornucopia Institute called "The Hexane Report." Hexane is a by-product of gasoline refining. Soybeans are soaked in a bath of solvents to separate the soy from the protein. The protein, soy protein isolate, is then used in meat substitutes, protein bars and veggie burgers. One of the chemicals in the bath to create the soy protein is Hexane. "The Hexane Report" talks about the difference between natural foods and organic. It tells you how to avoid hexane extracted soy and what companies are hexane free. Tofurky is a hexane free company.
So . . . The Tofurky vegetarian roast took an hour and fifteen minutes in the oven. I served it with the Tofurky "Giblet" Gravy, smashed sweet potatoes from Candle Cafe's cookbook, collard greens from my farm share box, vegan buttermilk biscuits and cranberry sauce. We even had a Sweet Potato and Brazilian Nut Crunch Pie from Isa Chandra Mosowitz and Terry Hope Romero's brand new Vegan Pie in the Sky book! The Tofurky roast and gravy were AMAZING. It was one of those meals where you keep licking your lips and making muffled happy noises. It was that goooood!
I highly recommend the Tofurky Vegetarian Roast and "Giblet" Gravy! Their roast recipe has most definitely changed since the last time I tried it. I even ate it for lunch the next day. A vegan buttermilk biscuit with gravy made for a delightful day after Thanksgiving snack as well!
I was not impressed the Candle Cafe's smashed sweet potato recipe. I thought the miso and maple syrup were unnecessary. I ended up modifying it a bit and adding almond milk and some pumpkin pie spice.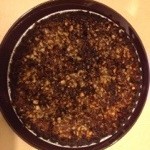 I have been waiting with baited breath for the Vegan Pie in the Sky book to come out. Their book, Vegan Cookies Invade Your Cookie Jar made it possible for me to want to be a vegan. The Sweet Potato and Brazilian Nut Crunch Pie was delicious. Unfortunately, my oven doesn't cook too evenly sometimes and it burned the top a little bit even when I reduced the temperature.
Recipes for the collard greens and vegan buttermilk biscuits will be posted soon!
© 2011, the superdiva, dk. All rights reserved. www.thesuperdiva.com