I hate eggs. I don't like the smell. I've always been afraid of under cooking them and getting salmonella or something. It's funny, but part of the vegan appeal for me was that I didn't have to eat eggs! No funny smell. No yolk all over my fingers when I crack them. No guilt at seeing the yolk because it could have been a cute baby chick.
Back when I was a meat eater, I was less inclined to eat the animal if I thought it was cute. No veal, lamb, pig, duck or cow. I could justify the turkey and chicken because well, let's face it: they weren't half as cute!
I used to use egg beaters for scrambled eggs and omelets. Since egg beaters were in a carton, I didn't have to worry about seeing the yolk. I missed my scrambled eggs.
I accidentally discovered tofu scrambles while reading a food blog. I read somewhere that every vegan should "master the tofu scramble." It turned me off of the idea. I thought it would be hard and I would screw it up. Considering my SuperDiva like cooking skills, I shouldn't have been deterred. But, I was really worried about it.
When I could no longer take my scrambled egg cravings, I did some research on the scramble. I looked at some recipes and was pleasantly surprised. It seemed so easy. I now have my own recipes for tofu scramble. I only wish I had looked up recipes for tofu scramble sooner!
The tofu scramble in the top picture is plated with tempeh bacon and whole wheat toast topped with Earth Balance spread (vegan butter).
VEGAN TOFU SCRAMBLE!
Prep and cooking time: 15 min
(Serves 1-2)
INGREDIENTS:
2 tbsp olive oil
1/2 block (7 to 8 oz.) medium/ firm tofu, cut into 1 inch cubes and mashed with a fork
3/4 cup veggies (peas, carrots, broccoli, corn, tomatoes, olives, etc.) If frozen, cook them first
Handful chopped onions or 1 tsp onion powder
2 cloves minced garlic or 2 tsp garlic powder
3 tsp Dijon mustard
1 tsp light sodium soy sauce
1/4 tsp black pepper
1/4 c of your favorite vegan cheese shredded or diced
INSTRUCTIONS:
1. Heat olive oil in sauté pan on medium high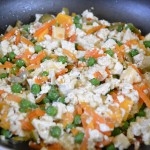 2. If using chopped onions and minced garlic, add to pan and sauté for 2 to 3 minutes
3. Add tofu, onion powder, garlic powder, dijon mustard and veggies to pan, sauté for 5 minutes stirring occasionally
4. Add soy sauce and cheese, sauté for 2 to 3 more minutes or until cheese is melted
5. Serve and enjoy!
© 2011, the superdiva, dk. All rights reserved. www.thesuperdiva.com