I've been eyeing Groupon.  Since so many people have been talking about it, I decided to take a look.  I put my name on the list for the daily emails for a couple metro areas near me.  There was a nationwide Old Navy deal that I bought a couple months ago.  I now get two emails from Groupon daily.
Last week, I bought an REI deal that gave me $25 worth of merchandise for $15.  I used it to buy a new pair of Vibrams.  More on my Vibrams later . . .
I also bought another Groupon for $30 worth of organic produce from a local farm share called Farm Fresh to You last week.  I used my Groupon on their Regular Mixed box.  I've been thinking about joining a farm share for a couple months now.  It is a great way to support local organic farms AND ensure that you get your fruits and veggies!  My farm share box is set to arrive every other week.
The Farm Fresh to You website allows you to see what is coming up for the following week.  You can even specify what you don't want to see in your box.  The only item I said I didn't want was dandelion greens.  Really?  Just no.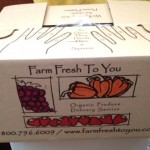 My Farm Fresh to You box showed up on my doorstep before 10 am on Wednesday.  In it I found broccoli, bok choy, lettuce, mushrooms, barlett pears, persimmons and delicata squash.
After a few days of sitting out and a couple of web searches for recipes, I settled on making persimmon cookies!  I stumbled upon a highly ranked recipe from allrecipes.com.  They were delicious!  Here is the modified veganized recipe:
VEGAN PERSIMMON SPICE COOKIES
Ingredients:
2 ripe persimmons
1 tsp baking soda
2 c all-purpose flour
1/2 tsp ground cinnamon
1/2 tsp ground cloves
1/2 tsp ground nutmeg
1/4 tsp ginger
1/2 tsp salt
1 egg substitute (I used a flaxseed mixture)
1 c white sugar
1/2 c vegan butter (I use earth balance sticks)
1 c raisins
1 c chopped walnuts (optional, but vital to the texture!)
Directions
1. Preheat oven to 350 degrees F (180 degrees C).
2. Peel and cut persimmons into large chunks. Using a food processor or blender, puree the persimmons.
4. In a small bowl, stir baking soda into persimmon puree and set aside.
5. Sift flour, spices and salt together, set aside.
6. Using a mixer, cream together butter and sugar until fluffy, beat in egg substitute and persimmon.
7. Gently stir in dry ingredients on low speed at first so you don't end up with more flour outside of the bowl!
8. Add nuts and raisins.
9. Using a cookie scoop, drop by onto a greased cookie sheet or a cookie sheet lined with parchment paper.
10. Bake for 10 to 15 minutes. Watch the first batch of cookies carefully. They may cook faster than you think! If they are getting dark golden brown on the tops and you still have a couple minutes to go . . . take them out before they burn!
© 2011 – 2012, the superdiva, dk. All rights reserved. www.thesuperdiva.com