Knives! I don't know if we have ever had a sharp knife in the house. When I was a kid, we had wooden handled knives that cut . . . sort of. They sat in the corner on the counter in a large knife block and seemed to make a good dust collector.
Two Merry Santa Claus days ago (two years ago for those of you in the cheap seats), I had eyed a pink chef's knife at Target. I added it to my wish list for Santa. Not only did Santa get me the pink chef's knife, he picked up a cheese and tomato knife as a stocking stuffer. The knives were colorful and sharp. The company was Pure Komachi 2. I got tomato slices so thin that I often had to stop and marvel at them.
A couple of months ago, I was in Costco and spotted a whole set of Pure Komachi 2 knives for $29.99. I immediately put them in the basket. At Target, the knives had been about $10 to $12 a piece. This was a set of six knives for less than $30. I giggled at my good fortune.
It seems that the latest craze is to keep knives on a magnetic strip out in the open above a kitchen counter. That scares me. Knife blocks are fine . . . I guess, but having knives out for display like that seems a bit reckless. Knives are beautiful; however, they can also be weapons. It just makes me nervous. I prefer to keep my knives safe . . . in a drawer.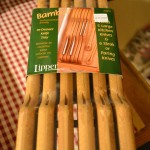 I purchased two knife blocks for drawers from Bed Bath and Beyond (with 20% off coupons of course!). I happily cleaned out a junk drawer, cut a new drawer liner and installed my knives. Whenever I need a knife, I always open the drawer and smile. Yes, beautiful, sharp and colorful knives make me smile. It is always the little things in life that should be appreciated. 😛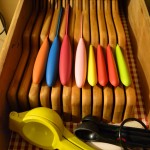 I love these knives so much that I purchased the cheese and tomato knife for a good friend of mine. She liked it so much that she went back to Target to buy more! Target still sells the knives in the kitchen section (duh!). I was in Costco a couple of weeks ago and they still had the Pure Komachi set for $29.99. Amazon even sells 8 and 9-piece Komachi knife sets. I just saw a deep purple slicing knife that I don't have. A purple Komachi knife is definitely in this superdiva's future! I can't say enough good things about these knives. They are colorful, sharp, cheap and amazing! Did I mention they even look nice in a drawer? 😉
Read More