There is nothing worse than a clogged drain.  Whether it is the toilet or a sink, it really puts a damper on a household.  Plumbers are expensive.  They often charge upwards of $100 an hour with a minimum charge of one hour.  Fortunately, there are several things you can do BEFORE you call a plumber.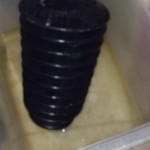 PLUNGER:
First, you can try a plunger.  Plungers work by forcing the water down into the pipes through suction and plain old human force.  I have found the BEST plunger to be one that looks like a funky accordion.   It is was a little more expensive than a standard plunger.  Its design seems to be centered around the accordion like ridges that help to incorporate more air into the plunger.  In my opinion, it just works and that is all that counts!
PLUMB-AWAY:
I was meandering through OSH a couple weeks ago.  I hate chemicals and the drain was clogged.  Cleaning out clean out for the sewer line was an option, but I was tired of doing that.  I was trying to find something non-toxic to apply to the system.  I've read the labels on some of the non-toxic biodegradable "drain openers" at Whole Foods.  Some of them say that you should pour it down the drain in a circular fashion and you may need to apply more that one bottle.  Seriously?!  If the drain is clogged or slow moving, applying the product in a circular fashion won't make it go down any faster!  Also, If I need to use more than one bottle of a "drain opener," then I don't need the product that badly.
While in OSH, I stumbled upon a product called Plumb-Away.  It was non-toxic and didn't seem to use any chemicals. I quickly looked it up on Amazon.com (of course) to see if there were any reviews.  There were only a handful of raves for the product.  I bought it for about $12.
I went home, actually read the instructions, filled the tub with the 4 inches of required water and applied it to the bathtub.  It made no sound and I didn't get the lemon fresh scent that I was supposed to.  I looked at the instructions again.  This time I vigorously shook the can and tried again.  I held it steady and pressed firmly.  A huge bubbling noise startled me.  I smelled lemon and the tub began to drain!
Plumb-Away actually works!  You can think of it as the force of multiple plungers under pressure in a can.  1-2 applications should be sufficient in unclogging a drain.  There are 8 uses per can.  You can buy refill cans for about $10.  I should say though that if your entire system is backed up (toilet, sink and tub concurrently) this product will probably not work.  If that is the case, you should try to snake the clean out on the outside of your house.  If just a sink tub or toilet is clogged, then this product should work for you.
GOING OUT TO YOUR CLEAN OUT FOR THE SEWER SYSTEM:
As I said earlier, if you own a home and your entire system is clogged, you need to go to your clean out.  The clean out is usually located under a circular cement stone that says, "SEWER."  It is often built into the driveway or your front yard.  You can use a snake attached to a drill, but it is often messy and time consuming.  There is an attachment you can use with a garden hose that seems to work flawlessly.  Sorry, but I don't remember the name of it.  It is a piece of rubber that attaches to a hose.  Put the hose with the rubber attachment down your clean out until you hit a blockage.  Turn on the water full force.  The rubber piece will inflate to fill the pipe.  The pressure from the water will clear the blockage.  If it works, the water level in the clean out should drop.   I will do another post on this at another time.  You should be able to find the rubber attachment in the aisle with snakes and plungers in a hardware store.  I found mine at OSH.
FOR IMMEDIATE (maybe) RELIEF AND PREVENTATIVE MAINTENANCE:
If your drain is flowing freely or even if it is slow, make sure you do preventative maintenance every one to two months.  Baking Soda and White Vinegar will help keep your drain clear of hair and grime.
PREVENTATIVE DRAIN MAINTENANCE
YOU WILL NEED:
1/2 c Baking Soda
2 c White Vinegar
One pot of boiling water
INSTRUCTIONS:
1.  Pour half a cup of baking soda down your sink or tub.
2. Pour 2 cups of white vinegar on top of the Baking Soda while trying to make sure it goes down the drain as much as possible
3. Let sit for 30 minutes to an hour.
4. Flush with boiling water.
As we all found out in elementary school, there is a chemical reaction with baking soda and vinegar.  The acid with clear away the grime.  Some of that nasty stuff may even float to the top of the drain.  Don't panic.  That means it is working!
© 2012, the superdiva, dk. All rights reserved. www.thesuperdiva.com