Sometimes you see something in the store that you just have to have.  You might not know what to do with it, but you say, "Whatever.  I'll figure it out later."  Lately, I've really been eating lots of hummus, carrots and peppers.  I love hummus.  Let me say that again . . . I LOVE hummus.  So, when I came across these sweet mini organic peppers in Costco, I had to get them.  They were so colorful . . . I swear they even said, "Eat me!"
After rediscovering them in the fridge while reaching for carrots last night, I got to thinking.  "What in the world am I going to do with all of those tiny peppers?"  I had also stumbled upon a great Pearl Couscous salad in the hummus and dip section at Costco.  The company was Pita Pal and the ingredients were all vegan!  Pita Pal's Pearl Couscous salad is delicious.  It occurred to me last night to try making stuffed peppers with the pearl couscous salad . . . with hummus of course!
STUFFED MINI PEPPERS
Prep Time:  5-7 min
Cook Time: 1 min
INGREDIENTS:
10-12 Mini Peppers
1/2 c Hummus
1 c Pearl couscous salad, pilaf or even your favorite rice dish
2 tbsp Balsamic Vinaigrette
INSTRUCTIONS: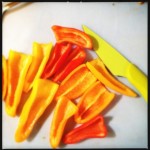 1.  Half the mini peppers lengthwise removing the stems and white membranes
2.   Using the back of a teaspoon, spread a layer of hummus inside each pepper
3.  Spoon the pearl couscous salad into each pepper being careful not to overfill them
4.  Place the peppers on a microwave safe plate.
5.  Microwave for 30-45 seconds.  Do not over cook them!  You just want to take the chill off of them, but you want the peppers to still be crunchy!
6.  Drizzle 1 to 2 drops of balsamic vinaigrette on each stuffed pepper.
7. Enjoy!
*OPTIONAL
Feel free to top yours with vegan cheese,  nuts or even toasted breadcrumbs . . . be creative!
Read More