I LOVE peanut butter. As a child I used the toaster oven to make heated open-faced peanut butter sandwiches. There is nothing like the taste of warm peanut butter on a toasted piece of bread!
Just before I sat down to write this, I gave each of my two dogs a kong "binkie" filled with peanut butter and peanut butter treats so that they would leave me alone to write.
My first encounter with homemade peanut butter was with the machines at Whole Foods. I discovered them by accident one day in the aisle with the peanut butter. I've been going to Whole Foods for years. I love to go up and down every single aisle; however, I never noticed the peanut butter machines!
You can select regular peanuts or honey roasted peanuts. I chose the honey roasted peanut butter. Once I got home, I immediately had to taste it. It was thick and it didn't spread well. I was disappointed. Luckily, I fell in love with the Earth Balance Peanut Butter. Earth Balance's natural peanut butter has flaxseeds so vegans can get some much-needed Omega-3s. The natural Earth Balance Peanut Butter doesn't even need stirring! It is delicious and magical. Although, If you do have a natural peanut butter jar that does need stirring, stir it once and then store it upside down in the fridge. The oil will always rise to the top so you'll never open a natural peanut butter jar and have to stir it again!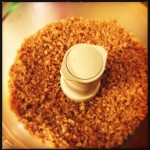 One day, I came home and (*gasp*) I was out of peanut butter. When you have a craving for peanut butter, there is no substitute for it! I remembered that on natural peanut butter jars the ONLY ingredient was peanuts. So, I took some Honey Roasted Peanuts and tossed them into the food processor. I left it on for a good couple minutes. The peanut butter slowly went from fine crumbs to a glob moving in a circle to thick peanut butter! I remembered I had some ground flaxseeds in the fridge. I tossed them into the newly formed peanut butter. I let the machine run for another minute or two to make it extra creamy.
I don't buy peanut butter anymore. Once you make something from scratch, store-bought just doesn't cut it. I love to share good vegan food. I have a co-worker who looks in my lunch bag almost daily in search of my peanut butter. You should see his smile when he discovers that I brought extra peanut butter crackers for him in my lunch bag!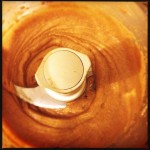 HOMEMADE PEANUT BUTTER
INGREDIENTS:
1 1/2 cups or more of Peanuts (I like Honey Roasted)
*Optional:
1 to 2 tbsp Ground Flaxseeds (ALA Omega-3s!)
RECIPE:
1. Put peanuts (and if using, ground flaxseeds) into a food processor.
2. PULSE until the peanuts are fine crumbs (about 20 to 30 seconds)
3. Let the machine run in the ON position for at least 2 to 3 minutes. Make sure you stop at least once to scrape down the sides of the bowl so all the crumbs get incorporated into the mixture. The longer you let the machine run, the creamier your peanut butter will become. I tend to let mine run about 30 to 45 seconds longer after I reach my desired consistency.
4. Enjoy!
*FOR CHUNKY PEANUT BUTTER (I don't like chunky peanut butter!! Ewwww!):
1. After you have made your peanut butter, add about 1/4 cup of peanuts to the food processor and pulse until you have chunks in the peanut butter. Seriously, who likes chunky peanut butter? Creamy is the best!
*TIPS and SUGGESTIONS:
Store in an airtight container in the fridge.
Some vegans argue that honey isn't vegan. Clearly, I eat honey. Truthfully, I tend to enjoy agave more than honey. Homemade peanut butter tastes better if the peanuts are roasted. Raw peanuts taste like something is missing especially since I don't use salt. You can try roasting peanuts tossed in a little sugar and agave if you wish . . . I certainly will try it at some point.
Embrace your inner child! Experiment with peanut butter recipes. Peanut butter goes great with bananas, apples, celery, cookies, chocolate . . .
You can even substitute the peanuts for another nut. Homemade Brazilian nut butter is pretty good . . .
© 2012, the superdiva, dk. All rights reserved. www.thesuperdiva.com