Let's talk shoes. I love a gorgeous sexy high heel. My feet, however, don't like them. I have boots, stilettos, colorful rain boots, and even 3 inch high jellies in the back of my closet that I used to wear to high school. My stepmother, who epitomizes style, says I "always have ugly shoes." When I walk down the street and get stopped by people who tell me they love my shoes . . . I often chuckle.
These days Tim Gunn is probably horrified by my shoe of choice. Tim Gunn hates Crocs. I think I even once heard him say, "They were the worst thing to happen to fashion." Crocs may be ugly, but the little nubs in the footbed with the raised arch make my feet smile.
Studies have shown that humans aren't supposed to wear shoes. There is a book called BORN TO RUN by Christopher McDougall. It is a true story of the author who tracks down super athletes in Latin America who run for days barefoot and without injury.
A couple of years ago, I came across my first pair of Vibrams while doing a pre-graduate study summer Architecture program at UC Berkeley. This guy in my studio was wearing these funny looking shoes and I could see the separation of each toe. They were unlike any shoes I had even seen. I knew I had to have them!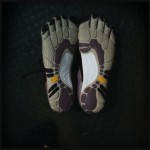 I now own five pairs of Vibram Five Fingers. Running in Vibrams is inspiring. I am in tune with the ground. Unlike sneakers, it is no longer a heel toe action. My whole foot hits the ground at once. My back problems are gone. My knees are happier. My posture is better; I feel more powerful. In the summer months, I wear my Vibrams every single day. They are a conversation piece everywhere I go. I love them.
Vibram Five Fingers is an Italian shoe company. The shoe sizes are in centimeters. They have multiple styles and colors. My two favorites styles are the classic and the speed. I waited almost two years for the speeds to become available in the U.S. I, of course, got them in purple! They are my new everyday staple for running errands, walking the dogs or even going for a hike.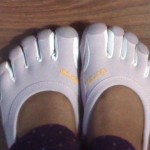 These shoes do not come cheap. Expect to spend about $75 for the classics. The speeds (with laces) will set you back an even $100. Thankfully, they are machine washable. I wash all my pairs at once, put they outside in the sun to dry, and I have clean Vibrams in about an hour.
I still have my first pair of black classics; however, there is now a hole in the sole at the second toe. The rubber sole has also been worn down a bit. As someone who wore them almost everyday for two years, I am saddened by the hole, but not surprised. I just put a small piece of black Gorilla tape over the hole and keep going. They may not last forever but your feet are guaranteed to smile and maybe even do a little dance!
© 2012, the superdiva, dk. All rights reserved. www.thesuperdiva.com