THE SHORT: Since a nearby Best Buy is closing, I managed to get a $350 Electrolux canister vacuum for $112!
THE LONG: When we had my first dog, Daisy, we used an iRobot I affectionately called "Speedy." Speedy is short for Speedy Gonzalez. If you have ever seen or owned a robot vacuum, you'll understand the name. I put Speedy on a schedule and it (slowly) cleaned the hallway every other day. It was wonderful.
When my second dog, Butternut, was a puppy, while playing in the hallway he accidentally turned it on. It scared him. He would sit, look at Speedy and whine. He refused to walk past it without an escort. I gave him lots of treats near it to help him get over his fear. He was fine until he accidentally turned it on again. I had to banish Speedy to a closed room. Now that I have two dogs, the hallway is a disaster! There are toys everywhere and the fur is driving me crazy!
Now I know Speedy can't handle the toys and dog bed in the hallway. Our upright vacuum cleaner is constantly in need of a fur clean out. I couldn't take it anymore. Recently, I've looked around for new vacuums. I didn't want to spend more than $100 but I needed something that could handle massive amounts of pet hair.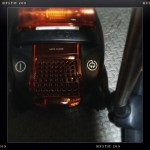 I got this idea in my head that I wanted what I thought was a retro style vacuum. The main part sits on the floor on wheels attached to a hose with a roller brush attachment to clean the carpets. I had no idea what to look for so I just started searching amazon.com for vacuums hoping I would find it. Most of the canister vacuums were around $200 and out of my price range.
I walked into a neighborhood Best Buy scheduled to close. As I walked through the store, I stumbled upon an Electrolux Ultra Active Turbo canister vacuum. It was a floor model for $112. I quickly looked it up on Amazon. The sticker price was about $350 and most people gave it rave reviews. Sold! I carted it to the front of the store, plugged it in just to make sure it worked, and took it home.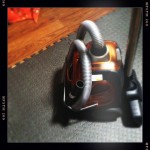 It glides effortlessly across the carpets and bare floors. There are multiple switches built into the hose to adjust hose height, change floor type, and transition to just the wand. The cord can even be retracted with the push of a button.
My brother bought a used Dyson that he swears by. One reviewer said, "The Electrolux Ultra Active Turbo has more suction than a Dyson." Honestly, I do not know any vacuum that is worth more than $300. $200 is pushing it. I will say though that I am extremely happy with my purchase and even happier with the price! When it is no longer new and shiny, I wonder if I'll have the same opinion . . .
© 2012, the superdiva, dk. All rights reserved. www.thesuperdiva.com