Chickpeas! *Be still my heart* CHICKPEAS!!!! *Flutter, flutter, flutter!* I LOVE CHICKPEAS!!!! I am pretty sure the only one who loves chickpeas more than I do is my friend, Leah.
Chickpeas (also known as garbanzo beans) are so versatile. You can make chickpea salads, burgers, hummus, guacamole hummus, and even frittatas!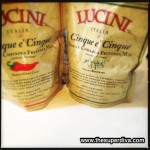 While I am not a big breakfast person, fritattas used to be one of my favorite foods. I had tried to make tofu frittatas, but I just didn't love them. They were just so-so. I stumbled upon Lucini's Chickpea Frittata Mix in the cooking aisle of my second home, Whole Foods. The only ingredients were chickpea flour and one spice (depending on what flavor you chose). Seriously?! $5 for a couple cups of chickpea flour? Puh-leeze! My curiosity got the better of me and I bought it anyway. I wanted to know what was so special about it. I made the recipe according to the directions. Since it was so blah I added more seasoning and fresh veggies. Two days later, I made my own chickpea frittata using my chickpea flour and imagination: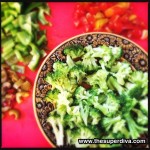 CHICKPEA FRITTATA
(Serves Eight)
Prep Time: 10 min
Cook Time: 20 min
Recommended Cooling Time: 1 hour *
[Protein and fiber rich, gluten-free]
INGREDIENTS:
2 tbsp olive oil
1 cup plus 2 tbsp of chickpea flour
2 cups plus two tablespoons of water
3 tbsp olive oil
2 tbsp garlic (granulated or minced)
2 tbsp rosemary (optional)
2 tbsp parsley
1/2 tbsp black pepper
2 cups chopped fresh veggies (broccoli, mushrooms, bell peppers, steamed spinach, tomatoes, corn, olives etc)
1/2 cup shredded Daiya Cheddar Cheese
juice from 1/2 a lime or lemon in lieu of salt
Habañero pepper sauce (optional: but AMAZING if drizzled on top of the frittata. It adds a whole new dimension of flavor to it!)
INSTRUCTIONS:
1. Preheat the oven to 450 degrees
2. Lightly coat a 9 inch deep dish pie pan with 1 tbsp of olive oil
2. Heat 1 tbsp of olive oil in a sauté pan over medium high heat
3. Saute onions and garlic (if using minced) for 3 to 4 minutes or until caramelized and soft
3. In a large bowl, using a whisk, beat together chickpea flour, water, and olive oil until there are no visible lumps
4. Add garlic, onions, rosemary, parsley, and black pepper, stir
5. Add veggies and cheddar cheese, stir
6. Pour mixture into a 9 inch cake pan**
7. Bake in oven for 20 minutes or until top is slightly golden brown and frittata is firm in the center
8. Let sit to cool.
* NOTE: If you cut the frittata before it has cooled, it will not hold its shape. I have found that letting it cool completely for at least an hour and then reheating will ensure it doesn't fall apart. Plan ahead. Make it the night before! It will taste even better in the morning for breakfast, lunch or dinner! 😀
**NOTE: This produces a large frittata that will fill a 9 inch cake pan. If you use a pie pan, it will probably make two frittatas. Another idea would be to use muffin pans and make mini frittatas!
© 2012, the superdiva, dk. All rights reserved. www.thesuperdiva.com