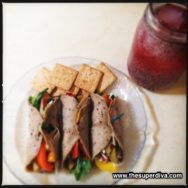 I love carbs. I have no intention of giving them up. They are a source of energy. Carbs before a good workout are a must. A lavash wrap is one of my favorite meals! I make lavash wraps and pizzas all the time. While I will never overdose on lavash, I decided to take a short break and try wrapping my food in something else. These days, Tofurky has become a staple in my house. It satisfies a protein craving in a delicious guilt free manner!
PEPPERED GUACAMOLE HUMMUS VEGGIE TOFURKY ROLLUPS
(Makes three rollups for 1 serving)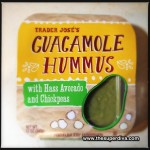 Prep time: 10 min
INGREDIENTS:
6 slices of Peppered Tofurky
2 tbsp of Trader Joe's Guacamole Hummus or your favorite spread (aioli, hummus, etc.)
1/2 cup of green leafy roughage (spinach, kale, swiss chard, lettuce, etc)
9 thinly sliced bell peppers (I used three orange, three yellow and three red for color!)
5 cherry tomatoes quartered
.5 oz shredded Daiya mozzarella (1/2 serving)
4 pimento stuffed queen olives, sliced (optional)
1 tbsp (fat free!) Balsamic Vinaigrette
3 toothpicks
INSTRUCTIONS:
1. Double up the Tofurky slices so you have 3 sets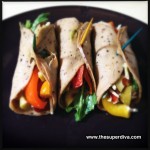 2. Spread the Guacamole Hummus onto the three pieces of Tofurky.
3. Divide the roughage into three piles and place it on the slices keeping it toward one end of the Tofurky.
4. Top with bell peppers, tomatoes, cheese, olives and then drizzle the balsamic on top
5. Using the back of a teaspoon to keep the ingredients from falling out, roll the Tofurky to make a wrap. Make sure the edges of the slices overlap at the center.
6. Stick a toothpick through the overlapping edges to keep the rollup together.
7. Enjoy!
© 2012, the superdiva, dk. All rights reserved. www.thesuperdiva.com