I find it fascinating that your taste buds change as you get older. Foods I used to hate as a child: mushrooms, tomatoes, cherries, etc., have now become some of my favorite foods. When I was a kid, I thought mushrooms were disgusting. Why would I want to eat a fungus?! Many wild mushrooms just look funny. I will admit that the smell of mushrooms sautéing with a garlic and olive oil could lure me into the kitchen; however, just because the mushrooms smelled amazing, didn't mean I was willing to eat them! Lately, I can't seem to get enough of them.
I was inspired by a
photo of a Portobello mushroom pizza
on Pinterest and my new grill pan I bought from IKEA for $14.99! I had never cooked Portobellos before. I threw them on my new grill with a bit of olive oil from my
Misto olive oil sprayer
. I then turned them over, filled them with sauce, and all of my pizza fixings. As they were baking, this fantastic smell started emanating from the oven! One bite and I was hooked! I had a Portobello mushroom pizza for lunch, dinner, and lunch the next day! It was foodie bliss!
br>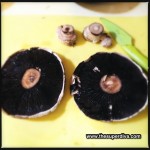 GRILLED PORTOBELLO MUSHROOM PIZZAS
Serves 2
Prep time: 5-10 min
Grill Time: 6-8 min
Bake Time: 10-12 min
br>
INGREDIENTS:
2 large Portobello mushrooms with the center stem trimmed down to the same level as the rest of the inside of the mushroom
1/2 tbsp olive oil
1/2 cup of pizza sauce
1/2 cup shredded vegan mozzarella cheese (I use Daiya)
Your favorite pizza toppings (kale, collard greens, corn, olives, spinach, tofurky, etc.)
br>
*Optional:
1/2 tsp garlic
1/2 tsp basil
1/2 tsp oregano
chili flakes
br>
INSTRUCTIONS:
1. Preheat oven to 450 degrees.
2. If using a grill pan, turn the stove burner to medium high heat.**
3. Mist the grill pan with olive oil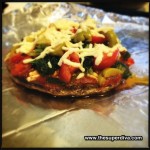 4. Once the pan is heated and starts to sizzle, place the Portobello inside down and cook for 2 to 3 minutes on each side.
5. Remove mushrooms from the pan. Drain any excess liquid from the mushrooms.
6. With the top side down, fill the inside of the mushrooms with sauce spreading the sauce out to the edges
7. I think pizza sauce is bland. Once I place the sauce, I sprinkle garlic and herbs over the sauce.
8. Add toppings
9. Mist a baking sheet (or just spread a little olive oil)
10. Bake the Portobello pizzas for 10 to 12 minutes or until cheese is melted, sauce sizzles, and your kitchen smells amazing!
11. Enjoy!
br>
*If you don't have a grill or grill pan, you can bake the Portobellos at 400 degrees for 5 minutes on each side.
© 2012, the superdiva, dk. All rights reserved. www.thesuperdiva.com