I am a big fan of Popsugar.com. Their whole series of websites: Fitsugar.com, Geeksugar.com, etc, made me a raving fan. I must admit I did that whole sucking in air thing complete with a gasp out of excitement when I saw that Popsugar.com was doing monthly "Must Have" Bags. Now, I, along with many have student loans (and other bills to pay). I do not have disposable income for things like this. I saw the offer more than two months ago. Being choosy with my money, I told myself I needed to wait and see if a) I still thought about it in a couple of weeks and b) Do I REALLY want it?! The answer was a resounding "Yes and yes!" So, I opted to spend the $35 (plus tax) for the first month's bag. Since you can go month to month, If you don't like it, you can easily cancel.
I waited. July rolled around and I waited. The middle of the month passed . . . and I waited. A couple of days before the end of the month, I got an email saying my Popsugar "Must Have" Bag had shipped! When I had originally signed up, the information stated that you would get a bag worth about $150. When I revisited the site a couple of weeks later, the $150 had been changed to $100. I, apparently, wasn't the only one who noticed the drop in value. So, by the time my little white box arrived, I had run out of patience.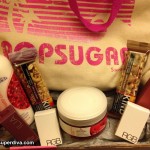 To my extreme delight, it seemed vegan and animal friendly! I am a huge fan of Kind Bars. There were two flavors of Kind Bars I had never tried or even seen in the store. The RGB nail polishes were formaldehyde and carcinogen free. Too bad bright sea-foam green and light almost nothing there aren't my (or anyone else's) colors. The nail polish colors seemed like a good idea, but they weren't universal colors.
I hate wearing lipstick. I can't lick my lips. Unless I use a lip stain, it gets everywhere and comes off on drinking glasses. Then, I have to keep checking in a mirror to see if I need to reapply it because it keeps coming off. It takes a lot to get me to voluntarily put on lipstick . . . and leave it on. Ilia's lip conditioners are 85% organic and feel weightless on my lips. I can adjust the intensity of the color by adding more layers of it. It didn't bother me too much. I almost wore one of the lip conditioners out one evening . . . almost.
I fell in love with the Body Drench Raspberry Gelee body scrub. It left my skin moisturized and it smelled fantastic without a chemical smell! I loved the Body Drench Pomegranate Crush lotion; however, the scent is overwhelming (and fruity) if you use it everywhere.
Since, the July "Must Have" Bag wasn't a total bust, I opted for another month just to see what would happen. My August "Must Have" Popsugar bag arrived yesterday! I am happier with my August "Must Haves" than I was in July. The white box was chock full of cool goodies!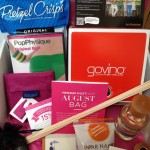 There were vegan snacks, shatterproof Govino wine glasses, an hour-long PopPhysique butt workout DVD, Alora Diffusers, a Baggu Bag, Tatcha blotting papers, coupons for wine and pictures, and a facial exfoliator and cleanser by Sprout. I've eaten the Pretzel Crisps, set up the Alora diffuser, been pleasantly surprised by the Sprout exfoliator. The exfoliator is composed of only almonds, oats, and sea salt. As soon as I cleaned my face with the exfoliator scrub, my face felt clean and soft. I knew my current facial cleanser was history. As soon as I run out of the little jar of Sprout exfoliator, I am throwing some almonds, oats, and sea salt into my food processor to make my own! Ha!
Popsugar's "Must Have" bag is now something I look forward to at the end of the month. It is a great way to discover new products. I'll keep my subscription . . . for now.
© 2012, the superdiva, dk. All rights reserved. www.thesuperdiva.com