PB2. Powdered peanut butter. PB what? Powdered peanut butter?! Ugh. I love peanut butter. I could eat homemade honey roasted peanut butter for days. Unfortunately, 1/4 cup of honey roasted peanut butter has 170 calories. Just as I start to enjoy the peanut butter, I have already eaten a 1/4 cup worth. Sigh . . .
Of course, I stumbled upon PB2 on Amazon.com. I thought this could either be awful or a Godsend for my love of peanut butter. The reviews weren't so bad and they also had a chocolate peanut butter version. I bought a two pack with one regular PB2 and one chocolate PB2.
The box arrived. I followed the instructions mixing together 2 tbsp of PB2 and 1 tbsp of water. I tasted it and was underwhelmed. Blech! "This is not peanut butter," I thought to myself. I then tried the chocolate PB2. It didn't taste so bad . . . I could definitely get used to it. While PB2 is not like the original, I wouldn't even be able to call it a carbon copy. It is more like that 2nd copy underneath the carbon copy where you can faintly make out the original, but it just isn't the same. PB2 does have a smaller carbon footprint than regular peanut butter though so it does have something else going for it besides fewer calories.
So far, I have only tried it with apples, crackers, and in one batch of peanut butter oatmeal chocolate chip cookies. I wasn't impressed with the cookies so I decided to try PB2 in another cookie recipe.
I saw these peanut butter chocolate chip cookie dough bites on Pinterest. The caption said no flour, oil or white sugar. I followed the link and discovered that they were also vegan! The secret ingredient was chickpeas! I was elated! I subbed PB2 for peanut butter and agave for honey. They were ONLY good warm and fresh out of the oven. Once they cooled it was like eating cold hummus and dark chocolate. At 60 calories a bite with PB2, I am not complaining! If I do make these again, I will use Chocolate PB2 instead of regular PB2.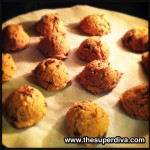 PB2 CHOCOLATE CHIP COOKIE DOUGH BITES
Makes 21 Bites
Prep Time: 5 min
Bake Time: 10 min
INGREDIENTS:
1 15oz can of Chickpeas (Garbanzo beans), drained and patted dry with a paper towel
3/4c (12tbsp) Chocolate PB2 plus 6 tbsp water mixed together
2 teaspoons vanilla extract
1/4 cup agave
1 teaspoon baking powder
1/2 cup Scharffen Berger Semi-Sweet Dark Chocolate Chunks
INSTRUCTIONS:
1. Preheat oven to 350 degrees.
2. In a food processor, process all ingredients until smooth.
3. Pulse in dark chocolate chunks.
4. Using a 1.5 tbsp cookie scoop, drop on a cookie sheet lined with parchment paper.
5. Bake for 10 minutes.
6. Enjoy warm!
© 2012, the superdiva, dk. All rights reserved. www.thesuperdiva.com