Peaches! Peaches! How do I love thee? Let me count the ways . . .
One of my favorite co-workers gave me about 25 peaches from his garden. I love peaches, but there are only so many things I know I can do with them. I posted on Facebook that I had come into a wealth of peaches and wondered if anyone had some creative ideas for peach recipes. Samara, an old friend of mine who is traveling halfway around the world, sent me a link to a mini peach cobbler recipe. She described it as "a peach with a cookie baked on top of it." *salivates* Warm peaches and cookies sounded like my kind of recipe!
The challenge for me was that since it wasn't vegan and it called for an egg white, I had to do some internet research for egg white substitutes. PETA has a great vegan baking cheat sheet for eggs (I pinned it on Pinterest); however, they don't have an egg white substitute on it. After some hunting, I figured out that you can whip together equal parts agar powder and water, chill and whip again. One tablespoon of agar powder and one tablespoon of water equals one egg white! I didn't have any agar powder so I used agar flakes. My dough came out a little dry. So, I added a tablespoon or two of my new favorite, chocolate coconut milk and it worked out beautifully with a hint of chocolatey flavor . . . Mmmmm!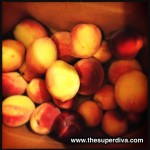 MINI PEACH COBBLERS
(serves 6)
Prep Time: 10 min
Chill Time: 10 min
Bake Time: 30 min
INGREDIENTS;
1 tbsp of agar flakes or agar powder
1 tbsp water
4 tbsp (1/2 stick) Earth Balance (vegan butter)
1/2 c granulated sugar
1/2 tsp vanilla
1/2 tsp cinnamon
1/3 tsp baking powder
1 c + 1 tbsp all-purpose flour
1 to 2 tbsp of So Delicious Coconut Chocolate Milk (or your favorite vegan milk)
3 slightly under ripe peaches
1 tsp cinnamon
1. Preheat the oven to 350 degrees
2. In a small bowl whip together agar and water with a fork or whisk until well blended
3. Place agar mixture in the freezer for about 10 minutes
4. Remove agar mixture and whip again.
5. Cream butter, sugar, vanilla, 1/2 tsp cinnamon, and agar mixture together
6. Combine baking powder and flour in a separate bowl.
7. Add flour mixture to butter mixture.
8. Since I used an egg white substitute, my dough came out a bit dry. Add 1 tbsp of Coconut Chocolate Milk at a time as needed until cookie mixture forms a ball.
9. Place dough in refrigerator to chill for at least 10 minutes.
10. Line a baking sheet with parchment paper (foil will quickly burn the bottom of the peaches!)
11. Place peach halves cut side up and bake for 10 minutes
12. Divide dough into 6 equal pieces.
13. Roll each into a ball and flatten out into about 2 1/2 inch circles.
14. Using the remaining tsp of cinnamon, sprinkle the cinnamon on each of the six warmed peach halves.
15. Place cookie dough circles on top of the peach halves.
16. Bake for another 15 to 20 minutes or until tops are slightly golden brown.
17. Enjoy with vegan ice cream, cashew cream, coconut cream or my favorite: plain!
© 2012, the superdiva, dk. All rights reserved. www.thesuperdiva.com