I had a craving one Sunday for wonton soup. Thinking it was a long shot, I asked Siri to find me "a restaurant with vegan wonton soup." The first place that Siri listed was a vegan restaurant I had been meaning to try. It is an all vegan Chinese restaurant. I had forgotten all about it! Yelpers (herbivore and carnivore alike) consistently rank Garden Fresh as one of the top restaurants in the city. Now, a year later, it is still one of my favorites! Their Vegan Orange Chicken is my all time favorite dishes. Garden Fresh's vegan Black Pepper Chicken and Mu Shu Vegetables aren't far behind on my list.
I love Chinese food. Back when I was a meat eater, I regularly ate my fair share of King Pao Chicken. I couldn't get enough of it. Trader Joe's Mandarin Orange Chicken was another standby of mine. Imagine my shock to discover that TJ's now has Chicken-less Mandarin Morsels! While I have not seen their ingredient list, based upon their other meatless products, I am certain that there is soy protein isolate somewhere in it.
After reading about their Chicken-less Mandarin Morsels, I had a hankering for some orange chicken! I had already stumbled upon a bottle of San-J's Orange Sauce in Whole Foods. I was itching to use the orange sauce. I would've made up a recipe for orange tofu, but I didn't have any tofu. I decided to experiment with vital wheat gluten.
I have made seitan before. It takes more than an hour to cook it on a stove and mine often comes out flavorless. I really wanted orange chicken. I was desperate. Instead of boiling or steaming it, I opted to be daring and bake it! Since I was worried about the consistency, I added a little garbanzo bean flour in hopes that it would be a little moister. The end result was mind blowingly good. I always surprise myself when I make up a recipe and it exceeds my expectations. My seitan bites, with the right sauce, can go in any dish . . . Kung Pao Chk'n is next!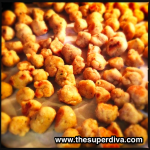 VEGAN MANDARIN ORANGE CHK'N
Serves 6
Prep Time: 30 minutes
Cook Time: 20 min
INGREDIENTS:
SEITAN DOUGH: *(See below for the I'm hungry now and don't have time for this version)
2 c vital wheat gluten
1/2 c garbanzo bean flour
2 tbsp no salt seasoning
1/2 tbsp black pepper
1 tbsp dried parsley
1 1/2 c water or vegan veggie broth
FLOUR MIXTURE:
1 1/2 c all purpose flour
2 tbsp cornstarch
1 tbsp black pepper
2 tbsp nutritional yeast flakes
1 tsp dried parsley
2 tbsp olive or stir fry oil
1 1/2 cup of San-J's Orange Sauce (I was too lazy to make my own!)
INSTRUCTIONS:
1. In a mixer, combine vital wheat gluten, garbanzo bean flour, no salt seasoning, black pepper, and parsley.
2. Slowly add 1c of water or broth until mixture forms a wet ball. You want it to be moist enough that the flour mixture will stick to it but not too moist that it is dripping. If the ball is too wet, you can squeeze the excess moisture out of it.
3. Form seitan dough into a ball and place on a plate
4. Combine ingredients for the flour mixture in a separate bowl
5. Pull of a hand full of seitan dough off of the ball with one hand. With your other hand, pull off small pieces and form into balls no larger than 1/2″. When you bake the dough, it will double in size so keep that in mind as you form the bites.
6. Plop the dough bites 10 to 15 at a time into the flour mixture and coat them with flour.
7. Using a slotted spoon, scoop out the floured bites making sure to shake the excess flour off the bites.
8. Place floured bites onto another plate.
9. Repeat steps 5-8 until all of the seitan dough has been formed into floured bites. If the dough gets dry, add a little more water.
10. Preheat oven to 400 degrees.
11. Line a cookie sheet with parchment paper.
12. Heat 1 tbsp of oil in a wok on medium high heat.
13. Dump HALF the dough bites into the wok, stir and heat for 3 to 4 minutes or until slightly browned.
14. Remove golden bites and place on the cookie sheet,**
15. Repeat steps 12-14 for the remaining half of the dough bites.
16. Cook the bites for 8-10 minutes or until doubled in size and slightly under cooked.
17. Remove bites from oven and toss in a bowl with 1/2 cup of orange sauce until all bites are coated
18. Place coated bites back onto the cookie sheet and bake for another 3 minutes.
19. Remove from orange bites oven and toss in a bowl with another 1/2 c of orange sauce.
20. Enjoy with steamed veggies, rice, pasta or whatever you prefer! The extra 1/2 c of sauce can be heated and drizzled over the final product to your liking.
* I made this recipe again today. I had just finished a workout and I was hungry. There was no way I had the patience to make the seitan from scratch. I used two boxes of Westsoy Seitan Cubes, tossed them in the flour mixture, cooked them in the work, tossed with sauce and called it a day!
**The dough bites will DOUBLE in size. So, if your cookie sheet isn't big enough, you may have to cook them using two cookie sheets or in two batches.
© 2012, the superdiva, dk. All rights reserved. www.thesuperdiva.com