Julienne. Now, everyone say it with me (with a perfect French accent) . . . Julienne (ju-lee-en)!!! I love pasta but, I am watching my girlish figure. 200 calories for 2 ounces of pasta is fine as long as you don't add too much to it like sauce, veggies, and cheese. One zucchini is 60 calories. One julienned zucchini is enough for one serving in lieu of pasta. You can then add all the pasta goodies you want with enough calories leftover for a cookie!
I own a MIU mandoline. I found it at Costco a couple of years ago for about $20. At the time, I thought it was a steal. I couldn't wait to use it. I got home and took it out of the box. It was heavy and so complicated it came with a link for video instructions. It is OK for the first half of a vegetable (or fruit). However, once the safety holder becomes flush with the mandoline, you can no longer slice (or julienne) anymore without removing it. If you remove the safety holder to finish off the vegetable, you risk slicing your fingers on the ridiculously sharp blades. So instead, I've been using my ever improving knife skills to slice and dice all of my produce.
When I saw the idea for zucchini noodles on Pinterest. I was elated. I am always looking for substitutes for my favorite carb laden foods. After watching a couple of YouTube videos on how to julienne zucchini, I decided to dust off my MIU mandoline. I got halfway through one zucchini and ran into the same problem that I had before. I carefully pulled the remaining half of the zucchini over the mandoline with my fingers and then just sliced the little piece that was left by hand.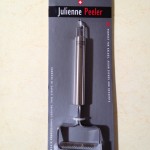 My zucchini noodles were fantastic! I knew, however, that I needed a different julienne tool. I went on my favorite website, amazon.com, and purchased a julienne peeler. The zucchini noodles were even thinner with the hand tool, but I ran into the same problem with the tool about 3/4 of the way through the zucchini. I still ended up using my knife to julienne the last bits.
While I have yet to find a way to julienne (besides by hand) that I like, there is no doubt that zucchini noodles are a new staple in our house. I have already made them four times in under a week. Here is a basic zucchini noodle recipe. Feel free to get creative and make your own version!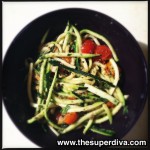 ZUCCHINI PASTA POMODORO
(serves 2)
Prep Time: 10 min
Cook Time: 5 min
INGREDIENTS:
2 tbsp olive oil
1 c tomatoes chopped
1 tbsp basil
1 tbsp garlic powder (or fresh if you prefer)
1 ounce Daiya mozzarella
2 zucchinis, julienned
black pepper and parsley
INSTRUCTIONS:
1. Heat olive oil in a skillet on medium high
2. Reduce heat to medium
3. Add tomatoes, basil, garlic, and any other veggies
4. Cook for 3 to 5 minutes
5. Add zucchini
6. Cook for another 2 to 3 minutes
7. Garnish with parsley and black pepper
8. Enjoy!
© 2012, the superdiva, dk. All rights reserved. www.thesuperdiva.com