I love Whole Paycheck Foods. I often wonder how I could sustain my veganism without it. Yes, there are local independent health food stores, but their selection isn't on the scale of Whole Foods. I walked into a local health food store the other day . . . I didn't see a price for anything! Seriously? Call me "spoiled," but I should at least be able to see a price BEFORE I pay for it!
There are two main online vegan stores that I have tried: www.veganstore.com and www.veganessentials.com. Veganstore.com had a great selection. Unfortunately, they are based in Maryland so, if I wanted something that needed to be refrigerated it has to be sent 2nd Day Air . . . which, often costs more than the handful of items I want to buy. While veganessentials.com is closer to me, I still have to request 2nd Day Air for refrigerated foods. I've settled for Whole Foods for my refrigerated items. Between veganstore.com and veganessentials, I have fallen in love with Allison's Gourmet desserts and vegan candy corn!
As soon as fall hits, I crave candy corn. Vegan candy corn tastes just like the real thing. For the record, Jelly Belly's candy corn is also vegan! I tend overdose on candy corn for a couple of days. Then, I won't go near the stuff until the following year because I get all sugared out!
I was frustrated by my options for trying new vegan foods until I stumbled upon an advertisement on Facebook in my web browser. I rarely use my computer for Facebook. I always use the Facebook app on my iPad or iPhone. I have never seen ads in the app. Skeptical, but intrigued I clicked on the ad for monthly subscriptions for healthy vegan snacks.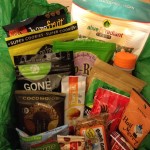 Healthy Surprise is my new favorite thing! Once a month, I get all kinds of vegan, GMO free, soy free, and gluten-free snacks delivered to my doorstep. I have discovered vegan caramel corn by Cocomo Joe, Home Free's chocolate chip and vanilla cookies, rekindled my love for BumbleBars and LaraBars, and been in awe by all the delicious vegan goodies that I never knew existed!
Their "Starter" box will run you about $33 a month. Two weeks after I received my first "Starter" box, my snacks were gone! I quickly upgraded to the "Healthy" Box at a rate of $66 per month. Considering the snacks should last for the whole month, it averages out to about $16.50 per week. $16.50 a week is considerably cheaper than if I were to buy snacks at Whole Foods. I also feel great supporting an independent company! I am extremely tempted to upgrade to the large, but at $99/ month, I do not know if I can justify the expense. We shall see . . . it is only $8.25 more per month.
I applaud Healthy Surprise's efforts. So far, I am beyond pleased with my monthly boxes. I plan on supporting them for as long as possible!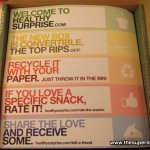 © 2012, the superdiva, dk. All rights reserved. www.thesuperdiva.com