Pumpkin meet Oatmeal. The weather has cooled. The leaves are changing colors. I stare at the darker clouds and wait impatiently with my purple rain boots for rain. Fall . . . has . . . arrived!
A couple of years ago, I did a summer pre-graduate program for Architecture. There was a café near UC Berkeley that sold these oatmeal bars that were so delicious I had to have one every day. I will never know everything that was in them. I was vegetarian bordering on vegan then. I am sure there were eggs in them. The oatmeal bars were so good that they have been on my "Recipes to Make" list since then.
This is my gift to you. Fall in an oatmeal bar. Make half. Make all. Freeze some. Enjoy the rest. You're welcome.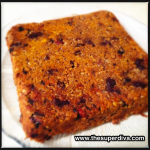 SPICED PUMPKIN COCONUT CHOCOLATE OATMEAL BARS
Prep Time: 10 min
Cook Time: 15 to 20 min
Cooling time: 15 to 20 min
Makes 32 2 inch squares or 16 2×4″ bars
~78 calories per 2 inch square~
INGREDIENTS:
1 15 oz (425 g) can pumpkin purée
1 tbsp ground ginger
1 tbsp cinnamon
1 tbsp allspice
1 c Coconut Chocolate Milk (or your favorite non dairy milk)
3 c oatmeal
1 c cranberries or raisins
1 c shredded coconut
1/2 c walnuts, pecans or almonds . . . candied is even better! (optional)
1/2 c Sharffen Berger semi-sweet dark chocolate baking chunks
1/2 c brown sugar (optional . . . I didn't use any!)
INSTRUCTIONS:
1. Pre-heat oven to 400 degrees.
2. In a mixer or bowl, combine pumpkin purée, ground ginger, cinnamon, allspice, milk, and brown sugar (if using).
3. Mix in oatmeal.
4. Add dried fruit, coconut, nuts, and chocolate.
5. Coat one 13 x 9 inch baking pan or two 8×8 inch cake pans with olive oil. Or, using and olive oil sprayer, mist the pan(s)!
6. Spread the oatmeal mixture into the pan pressing it into the sides and corners.
7. Bake for 15 to 20 minutes until top is slightly golden brown, center is firm, and edges release a bit from the sides of the pan(s).
8. Let cool for 15 to 20 minutes.
9. Run a butter knife along the edges to separate it from the pan.
10. If using two 8×8 inch cake pans, you can place a plate right side down on the top. While holding the plate and cooled pan, flip both together until the plate is right side up and the large oatmeal bar square is now on the plate.
11. Cut into about 2 inch squares or 2×4 inch bars.
12. Enjoy for breakfast, lunch, dinner or a snack with coffee, tea or coconut chocolate milk! *smacks lips*
13. Again . . . You're welcome! Happy Fall!!!!!
© 2012, the superdiva, dk. All rights reserved. www.thesuperdiva.com