I do not wear makeup. After 20 years of performing musical theatre, I'd like to think that I have worn my fair share of it. I do, however, love good skin products. Anything that makes my skin feel soft and moisturized without too many chemicals gets a rave review from me!
I was introduced to Sprout's Exfoliating Scrub in PopSugar's August Must Have Box. It was this little jar of ground up almonds, oats, and sea salt. After using it once, I immediately became a fan. Unfortunately, it came in a small jar and it wasn't enough of an exfoliator for me.
My mother suggested adding cornmeal. Once the little Sprout jar was empty, I took out my food processor and went to work. I combined almonds, oats, sea salt, and cornmeal until it was very fine. I then poured it into two plastic containers (no glass in the shower!).
After using it on my face and as a full body scrub, I don't think I'll ever buy a facial or body scrub again. I've used St. Ives exfoliating scrub since I was in high school and I like this one so much better. Since I've started using it, my skin is clearer and I even got a compliment on my complexion. This scrub is my new standby!
Use it, love it, and rave about it!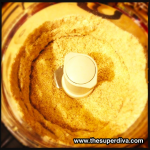 HOMEMADE FACE AND BODY SCRUB
Prep Time: 5 min
INGREDIENTS:
1 cup almonds
1 cup oats
1/2 c cornmeal
1 tbsp sea salt
PREPARATION INSTRUCTIONS:
1. Place all ingredients into a food processor and pulse for about 10 seconds.
2. Process until all ingredients have been ground up into a fine dry mixture.
3. Store in an airtight container.
TO USE:
1. Place a small amount of the scrub into your hand.
2. Add a couple DROPS of water.
3. Rub your hands together and apply to face and/or body.
4. Using a circular motion, rub into skin.
5. Rinse well.
© 2012, the superdiva, dk. All rights reserved. www.thesuperdiva.com