Kale was never on my food radar. I had heard amazing things about kale chips and was inspired to bake my own with olive oil (I don't use salt). They were gross. Thanks to my monthly Healthy Surprise subscription box, I was formally introduced to kale chips in the form of Kale Krunch's Southwest Ranch Kale chips. They are vegan and utterly divine. I ended up spending $5 on bag after bag of these amazing crispy delights until I got fed up and tried to make my own.
I first had to conquer the cheezy sauce. Every vegan cook should have a cheezy sauce that they like. Cheezy sauce is so versatile. With a few modifications, you can make mac 'n' cheese, use it as a dip for chips or veggies, spread it on crackers, place it in your favorite sandwich or wrap, and make kale chips! Over the past couple of years, I have worked on perfecting my cheeze sauce. I am proud to say that I have finally created a sauce that I love!
Once the sauce was conquered, I had to figure out how to cook my kale chips. Baking them worked but the idea of baking them at 200 degrees for an hour sounded ridiculous to me. I was impatient. I baked mine at 400 degrees for 20 minutes, turned the heat down to 200 degrees for 10 minutes and quickly ended up with black charcoal. My attempt to be a time-saving genius backfired and my result was inedible. I finally sucked it up and baked them at 200 degrees for 45 minutes. They were good, but not crunchy like the Kale Krunch ones.
After doing some research, I decided to fully dedicate myself to the kale chip cause! I used an Amazon.com gift card I had received for my birthday and some membership rewards points from my Amex card to purchase a Nesco Food Dehydrator. It comes with eight trays and it is expandable up to 30 trays! Through sheer experimentation and a ridiculous craving of kale chips, it was love at first bite. I made four trays of kale chips with the first batch. The next day, I made eight more trays of kale chips. The fourth day, I made four trays of cheezy kale chips, three trays of ginger peanut teriyaki kale chips, cabbage chips, and carrot chips, and one tray of dried apples.
My only complaint is that the trays are top rack dishwasher safe only. They trays are so big, I can only wash two trays at once! Grrrr! Hand washing eight dehydrator trays and clean screens isn't my idea of a good time! Thankfully, I can fill the kitchen sink with hot soapy water, dump everything in, let them soak for a few minutes, and then quickly wash them off.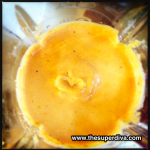 CHEEZY SAUCE OF GOODNESS
Prep Time: 10 minutes
Serves: 8-10
INGREDIENTS:
1 c Cashews, raw and unsalted
1 c Nutritional Yeast Flakes
1 c cold water
Juice from One Medium to Large Lime
1 tbsp Sesame Seeds
1 tbsp Chia Seeds (Omega-3s!)
2 tbsp Apple Cider Vinegar
1 tbsp Soy Sauce
1 tbsp Granulated Garlic
1/2 tbsp Paprika
1/2 to 1 tbsp Cayenne Pepper (optional)
1 tbsp Ground Mustard
1/4 tbsp Fresh Ground Black Pepper
INSTRUCTIONS:
1. Place all of the ingredients into a blender.
2. Stop blending to scrape down the insides of the blender to make sure that all the ingredients are incorporated.
3. Turn the blender back on.
4. If your blender has a "liquefy button," use it for a few seconds and then return to the standard "Blend" button.
5. Blend for at least a minute until the sauce is thick and creamy.
6. If your sauce is too thick or isn't blending well, add more water at increments no greater than 1/4 c at a time. Remember you want your sauce to be creamy NOT watery! Blech!
7. Turn off the blender and let the sauce sit while you prepare the kale.
*This would all be easier with a Vitamixer, but I do not have one!
CHEEZY KALE CHIPS!!!!!!
Prep Time 20 minutes
Cook Time with a Dehydrator (preferred: Overnight (about 10 hours)
Cook Time in the Oven on Parchment Paper and a Baking Sheet (Boo hiss!!! If you must . . . but they do not have enough crunchiness!): 45 minutes
Serves: Serves 4-6 or 2 people for 1.5 days in my house! Yields about four dehydrator trays
INGREDIENTS:
2 Bunches of Dinosaur Kale
1 batch of "Cheezy Sauce of Goodness" (see recipe above)
RECIPE:
1. Prepare dehydrator trays with clean screens (if you have them) making sure that the bottom tray is prepared and ready to go.
2. Rinse kale and remove bottom stems
3. Dry thoroughly . . . a salad spinner is extremely helpful and saves paper towels!
4. Tear dried kale leaves into slightly larger than bite sized pieces.
5. Place Cheezy sauce in a large (2 cups or more) measuring cup
6. In a large bowl, drizzle no more than 1/4 c of sauce in the bottom of the bowl.
7. Take two handfuls of kale and dump it into the bowl.
8. Add no more than 1/4 c more of cheesy sauce.
9. With your fingers, massage and toss the kale until fully coated with cheesy sauce. Get your fingers messy! The fully coated crunchy kale is worth it!
10. Lay coated kale flat on the first dehydrator tray making sure not to overlap the leaves.
11. Continue steps 6-10 until all the kale is coated and loaded into the dehydrator.
12. Set your dehydrator to 120 degrees and turn it on.
13. Continue on with your bedtime routine and enjoy the cheesy kale smell as you fall asleep!
14. Check the dehydrator in the morning. Mine chips have reached maximum crunchiness at about 10 hours.
15. Remove the chips from your dehydrator by carefully breaking them apart. I like to store mine in a large bowl with a high fitting lid so they don't get crushed! Kale crumbs are good, but kale chips are better!
16. Enjoy!
© 2012 – 2013, the superdiva, dk. All rights reserved. www.thesuperdiva.com