It is fall and I am a bit melancholy. Halloween is over and as usual, I've been stuck with far more Halloween candy than anyone could ever want. Unfortunately, despite my efforts, not enough of it is vegan. I've already eaten some mini Twix, Nestle Crunches, and Kit-Kat Bars. Ugh. The milk chocolate makes me feel guilty and annoys my stomach. The fact that it is junk food doesn't improve the situation. I know I do far better when I don't have junk food in the house. I can't be tempted if it doesn't exist!
Growing up, I was never allowed to just eat candy. My mother would always hide my Halloween candy and ration it off. I'd always find it, eat too much of it and regret it later. Never try to hide anything from a Scorpio. It doesn't work.
I was always picky about my food . . . especially my sugar. As an adult, my taste buds have changed; they are more grown up. I never liked ice cream. I still don't. I do, however, love cookies, dark chocolate with mint, and Cadbury Crunchies.
I fell in love with Cadbury Crunchies while living in London. I always like to share my sugary treats. I have never met a human who hasn't, upon tasting, loved, a Cadbury Crunchie! A honeycombed candy bar covered in milk chocolate! Milk chocolate isn't vegan so Cadbury Crunchies are now out of the question! I found a recipe that was supposed to re-create the delicious honeycombed inside of a Cadbury Crunchie. It tasted like hard chewy taffy with too much baking soda. I even tried drenching it in dark chocolate in hopes of improving the taste. No luck . . . sigh.
Delighted with my first efforts of coating candy with microwaved melted chocolate, I pondered how to fix the recipe. It was then that I decided that for now I would settle for chocolate covered graham crackers . . . Heh.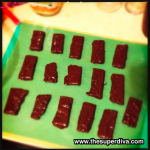 PEPPERMINT DARK CHOCOLATE COVERED GRAHAM CRACKERS
Prep Time: 10 min
Cook Time: 1 min
Drying Time: At least 20-30 min
Serves 8, 2 pieces each
INGREDIENTS:
4 Cinnamon Graham Cracker Sheets, quartered on the score marks
4 oz Semi-Sweet Dark Chocolate
1/2 tbsp Organic Canola Oil
1 drop of peppermint extract (optional)*
RECIPE:
1. Line a plate or cookie sheet with wax or parchment paper.
2. Place the chocolate and canola oil in a large microwave safe bowl.
3. Cook for 30 seconds, rotate and cook again for 30 more seconds
4. Using a fork, stir the partially melted chocolate, canola oil, and drop of peppermint extract (of using) until there are no more chunks and the chocolate is fully melted
5. In batches of no more than two at a time, submerged the quartered graham cracker pieces until they are fully coated.
6. Pull each piece out with a fork making sure to stop long enough for the chocolate to cease from dripping off the crackers.
7. Place the chocolate coated graham crackers on wax or parchment paper.
8. Repeat steps 5-8 until all the crackers have been coated and laid out to dry for at least 20 to 30 minutes.
9. If you are impatient like me, tape a sheet of wax paper over them and put the plate or pan with the crackers into the refrigerator for 10-15 minutes!
10. Enjoy!
* Trust me . . . one drop goes a long way! You want a hint of mint instead of a breath mint!
© 2012, the superdiva, dk. All rights reserved. www.thesuperdiva.com