Believe it or not, it is the holiday season . . . again. For me (aside from my birthday of course), it really is the most wonderful time of the year! Christmas music rings out in every store and all over my house. I break out all the holiday decorations and paint the house a lovely shade of Christmas. It is cider, eggnog, cookie, holiday party, gift giving, liquor drinking, baked treat making, and chocolate eating season wrapped up with a nice big red (not purple) bow!
I never focus on the non vegan things that I can't eat. I prefer to use my creativity to create vegan things that I can devour with glee! I'm not going to lie. I've missed white chocolate like crazy! I tried a vegan version that I found at veganstore.com once. It was close but no cigar.
I found this recipe on Pinterest for sugar-free dairy free vegan white chocolate. I was of course Pinterinspired! I forgot all about it until a good friend of mine started sending me pictures of Peppermint Dark Chocolate and White Chocolate Covered Graham Crackers and hinting that she thought I should make some to give to her. Yes, I am that person. I bake delicious goodies and give them away to people. I love the look on people's faces when that first bite of delicious sugar meets their taste buds and the magical "Mmmm!" sound is emitted while chewing. Well . . . that and I like to bake but don't wish to have the evidence of my sweet tooth added to my hips, thighs or gluteus maximus so I save a few for myself and happily give the rest of my baked goodies away!
The homemade white chocolate recipe had a couple of things that I either disagreed with or was totally clueless about. While I am sure sugar-free is great for some, the whole purpose of my eating dessert is for the sugar! The main thing that keeps me from eating regular white chocolate is the milk. This recipe called for a soy milk powder. I don't like soy. Instead I used Amazing Grass's Vanilla Chai Infusion Protein Powder which turned it a lovely shade of light green. It is not the color but the taste that counts! Besides, adding a superfood protein powder now makes the chocolate good for you, right? Heh.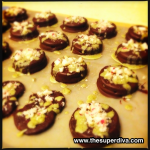 SUPERFOOD WHITE CHOCOLATE
Prep Time: 10 min
Cooling Time: 1 hour minimum in shallow candy/chocolate molds (Michael's, JoAnn's or Amazon.com) or 2+ hours in muffin pans
Serves 4-6 Depending on your level of greediness 😉
INGREDIENTS:
1/2 c (112 g) Cocoa Butter (I found mine in the Whole Foods health and body section. Amazon.com of course has it too.)
1 4″ Vanilla Bean
1/4 c plus 1 tbsp (50 g) Powdered Sugar
1 1/2 tsp Amazing Grass's Vanilla Chai Infusion Protein Powder or your favorite flavored protein powder*
1/2 tsp Vanilla Extract
1/4 tsp Coconut Extract (Optional)
INSTRUCTIONS:
1. Lightly spray a muffin pan (silicone works best) or chocolate mold with olive oil and set aside on a baking sheet
2. If cocoa butter is too hard to scoop out, microwave it in increments of no more than 30 seconds until it is soft enough to place in a saucepan
3. Melt cocoa butter over low heat.
4. Using a paring knife, split the vanilla bean lengthwise.
5. Scrape out the vanilla seeds into a medium-sized bowl with a spoon
6. Mix in the powdered sugar and protein powder with the vanilla seeds in the bowl
7. Once the cocoa butter has melted, turn off the heat, add half of the vanilla bean sugar mixture, and stir.
8. Stir in the remaining vanilla bean sugar mixture.
9. Add the vanilla extract, coconut extract and stir once more.
10. Transfer the mixture to a glass measuring cup.
12. If you let it sit for a couple of minutes, the oil will rise to the top. Use a spoon to gently skim out no more than a tablespoon of the oil and discard.
13. Stir again and pour into a muffin pan or chocolate mold
14. Using the baking sheet to keep the pan or mold level, place in the refrigerator to cool for an hour or more until firm to the touch
NOTE: I now keep extra superfood chocolate in my refrigerator to break into chunks for cookies or to drizzle over Peppermint Dark Chocolate covered treats like Trader Joe's Candy Cane Joe-Joe's! Mmmm! See here for my blog post about covering goodies in dark chocolate.
*Buy the single serving packets for $2-3 NOT the massive container for $40! Pfffttt!
© 2012, the superdiva, dk. All rights reserved. www.thesuperdiva.com