The Frisky recently had this delightful list of vegan cookies. I saved the list in Evernote and pinned a couple of recipes to Pinterest. The no bake PB & J Thumbprint Cookies really caught my eye. The part that concerned me was the raw flour. After Googling "raw flour cookies" and finding a list of recent articles on e. coli and salmonella outbreaks being traced back to the flour in raw cookie dough I knew I couldn't make the recipe as-is. I am also trying to reduce my carb intake so the regular flour was out anyway. While Googling, "raw flour," I managed to stumble upon coconut flour! It is the holiday season though and running out to the store to spend more money at Whole Paycheck is also not an option. It "dawned" on me (pun intended) that perhaps I could use my food processor to create my own coconut flour using dried coconut that I already had! Whoever said, "Necessity is the mother of invention," was right!
Coconut flour should not be used as a 1:1 substitute to all-purpose or baking flour. The consistencies are completely different! I used 1/3 coconut flour in place of regular flour. I noticed though that the coconut absorbed the peanut butter mixture without thickening it so I needed something else to bind everything together for form a dough. I added my tried and true cookie ingredient: oatmeal.
The raw thumbprint cookies turned out beautifully! It was like eating a PB & J without the bread. Which only meant more calories for more cookies! *nom nom nom! smacks lips* Enjoy!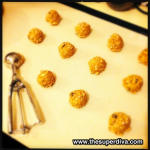 CHOCOLATE CHIP COCONUT PB & J THUMBPRINT COOKIES
Makes 12 cookies
Prep Time: 10 min
Bake Time: None!
Chill Time: 10 to 30 minutes
INGREDIENTS:
1/4 cup Prepared PB2 or Peanut Butter
2 tbsp Earth Balance (vegan butter)
1/4 cup Brown Sugar
1 tbsp White Sugar
1/4 cup Powdered Sugar
1/4 tsp Cinnamon
1 tsp Vanilla Extract
1/3 c Coconut Flour (dried unsweetened coconut flakes pulsed in a food processor until a fine flour like consistency has been formed)
1/2 c Oatmeal
1/4 c Chocolate Chips (optional)
1/4 cup Jelly or Jam (I used raspberry!)
INSTRUCTIONS:
1. Using a mixer (or your own superdiva manual power) combine peanut butter, butter, sugars, and cinnamon until fluffy
2. Add vanilla extract
3. Mix in coconut flour and oatmeal.*
4. Toss in chocolate chips
5. Chill dough in freezer for no more than 10 minutes or in the refrigerator for about 20-30 minutes.
6. Roll out 12 balls or drop using a cookie dough scooper.
7. Create a crater in the center of each ball with your thumb or index finger.
8. Fill each crater to the brim with jelly.
9. They will harden a bit if you chill them in the refrigerator before eating, but I couldn't wait for that!
10. Enjoy!
*If dough doesn't form, add more oatmeal in increments of 1-2 tablespoons.
© 2012, the superdiva, dk. All rights reserved. www.thesuperdiva.com