The first recipe I ever made with vital wheat gluten was Cajun sausages. I had seen a recipe for vegan sausages but I was craving a cajun flavor. I was astonished to find that if you threw a bunch of ingredients into a food processor and got the right consistency, you could make any kind of vegan sausage you want. It also works for a mixer too! It is one of the things I love about vegan cooking. Most things are just a series of trial and error in a saucepan, blender, food processor or mixer. I get a craving for something, look for the main seasonings for a particular flavor, and just make up the recipe! I am always surprised when my inventive recipes turn out so well. I am constantly standing in the kitchen, tasting my latest creation and exclaiming, "Wow!"
I've made variations of my Vegan Cajun Sausages for a couple of years now. They work on their own as a hot dog, in a sandwich, on pita (as shown in the above picture) pasta or just for a snack. You could even make a batch slice them into little circles and eat them with hot mustard. I usually make a bunch and freeze them for later.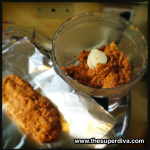 VEGAN CAJUN SAUSAGES
Prep Time: 10 min
Cook Time: 40 min
Yields: 8 to 9 sausages
Needed: 6 qt Stock Pot, Steamer Basket, Food Processor, Aluminum Foil, and Scissors
INGREDIENTS:
1 cup Garbanzo or Black Beans, rinsed and drained
2 cups Vital Wheat Gluten
1/2 cup Nutritional Yeast
1 1/2 cup Vegetable Broth or Water
3 tbsp Hickory or Mesquite Liquid Smoke
2 tbsp Soy Sauce
3 tbsp Tomato Paste
2 tbsp Garlic Powder
1 Bay Leaf, crushed
1/2 tsp Sage
1/2 tsp Thyme
1 tsp Red Pepper Flakes, Habañero pepper sauce or cayenne pepper
1 tsp Paprika
1 tsp Dried Oregano
1/4 tsp Black Pepper
2 c Spinach, steamed and drained (optional)
1/2 c Green Olives (optional)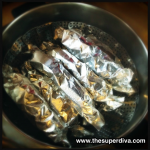 INSTRUCTIONS:
1. Place a steamer basket in the bottom of a large stockpot.*
2. Fill the pan with just enough water to cover the bottom of the steamer basket and place on the stove on HIGH heat.
3. Tear off six squares of aluminum foil
4. Cut the squares in half to form 12 8″ x 4″ rectangles (roughly). Set aside.
5. In a food processor, combine all ingredients (pulsing first) except the spinach and olives until mixture reaches a dough like consistency.
6. Add olives and spinach and pulse until olives are chopped and spinach is mixed into the dough.
7. Taking no more than 1/2 c of dough at a time, loosely form into a sausage with your fingers and place lengthwise on a piece of aluminum foil.
8. Roll the aluminum foil to fully cover the sausage and loosely twist the ends allowing room for expansion.
9. Place all the sausages in the steamer basket and reduce heat to LOW once water reaches a boil.
10. Steam for 40 minutes.
11. Enjoy!
*Yes, that weird-looking metal thingy that opened and closed in a kitchen cabinet that your parents had but you never knew what it was used for!
© 2013, the superdiva, dk. All rights reserved. www.thesuperdiva.com