I'm sad. I've been sad for some time. This post is long overdue. It is hard to explain what happens after I've been attached to a chocolate for years. I loved Scharffen Berger's Semi-Sweet Dark Chocolate. It was the secret weapon in my baked goods for years. The quality of your ingredients isn't always as important when you cook. Cheap wine works well in sauces. Cheap chocolate, on the other hand, can turn the taste of a homemade cookie into nothing but a disappointment.
Every holiday season, I would travel to Whole Foods to pick up my supply of Sharffen Berger's Dark Chocolate Chunks and Baking Bars for holiday baking. I am known for my holiday baking. One year, a former co-worker of mine, ate one of my Mocha Fudge Brownies and asked me to marry him. I've walked into work with a large bag of baked goodies and been followed by a line of people seeking to satisfy their sweet tooth. Another co-worker, that I've worked with for years and barely spoke to because he was so quiet, asked me last year right before the holidays if I was going to do any of my holiday baking that year. I burst out laughing.
I take baking very seriously. The first time I went to Whole Foods and couldn't find Scharffen Berger's Dark Chocolate, I shrugged it off as a supply problem. Things I like always tend to disappear at Whole Foods and then turn up again. The same thing has happened at Trader Joe's too. The second time I went to Whole Foods and couldn't find the dark chocolate, I broke down and asked an employee. For some reason I hate asking employees questions on where to find things. I'd rather go up each aisle and discover things I've never seen before. I digress. Imagine my shock when I was told that Whole Foods was no longer carrying Scharffen Berger's chocolate and would probably not be selling it again ever due to child labor issues.
I immediately went home to Google "Scharffen Berger Whole Foods." It was true. It only took mere seconds for me to discover that my beloved high-end chocolate brand was owned by Hershey's. I should have done more research. I thought I was supporting a smaller chocolate brand instead of a big conglomerate like Hershey's. They've had their fair share of labor issues in the past.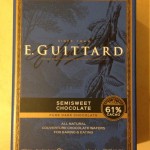 I'm saddened because I feel like I can't win sometimes. I buy dark chocolate not only because I like it, but also because it is vegan. Now, I also have to make sure it is fair trade. It isn't enough that I worry about whether or not animals are treated fairly. The welfare of the humans who make the products have to be considered too. I could stick my head in the sand and act like I don't know and it doesn't matter; however, once I find out, it matters. My conscience won't allow me to continue along with my old habits.
I now buy E. Guittard. Perhaps I am biased, but it isn't the same. It is close, but not the same. When you factor in E. Guittard's fair trade practices, it cancels out the taste difference. One of the reasons why I love veganism so much is because my conscience is clear when I am done eating. I don't have this lump in my stomach and guilt on my brain. I feel lighter, happier, healthier, and now, (hopefully) guilt free.
Click here for a list of cocoa companies that are recognized as Fair Trade.
© 2013, the superdiva, dk. All rights reserved. www.thesuperdiva.com