This started because I saw a cauliflower pizza crust recipe on Pinterest. It called for an egg. Knowing it probably wouldn't work, I substituted my flaxseed egg substitute mixture for the egg. Clearly, the flaxseed mixture didn't hold the cauliflower crust together; so, the next time I tried it, I added some garbanzo bean flour along with the flaxseed mixture. It worked!

In this recipe, I imagine you could add riced (and then steamed) cauliflower or broccoli or any other firm vegetable to the polenta crust. I almost included riced cauliflower in this recipe. Maybe some other time. The seed has been planted in YOUR head. Go forth and be creative with your vegetable polenta pizza crust. You are always welcome. Manga!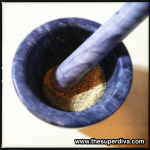 EASY PEASY CHEEZY POLENTA PIZZ-AH PIE-AH!
POLENTA PIZZA CRUST:
Serves 2-3, Yields a about 9″ crust
Prep Time: 20 min
Cool Time: 20 min
Bake Time: 15 min
Equipment: Medium Saucepan, Baking Sheet, Mortar and Pestle (optional)
INGREDIENTS:
3 c Water
1 c Cornmeal
1 tsp Olive Oil
2 tbsp Rosemary
2 tsp Garlic Powder
1 tsp Dried Parsley
1/2 tsp Black Pepper
2 tbsp Garbanzo Bean Flour
1 oz Daiya Shredded Cheddar Cheese
1 tbsp Cornmeal
INSTRUCTIONS:
1. Bring water to a boil in a medium saucepan
2. Reduce heat to low, add olive oil and corn meal, and stir immediately
3. Simmer for 20 minutes stirring occasionally
4. Using a mortar and pestle, grind rosemary through black pepper until rosemary is almost as fine as the garlic powder
5. After 15 minutes on the stove, add crushed herbs and garbanzo bean flour to the cornmeal mixture and stir
6. After 20 minutes have passed, add shredded cheese and and stir
7. On a pan lined with aluminum foil, sprayed with olive oil, and sprinkled with a little cornmeal, pour polenta out on the baking sheet forming a circular pizza crust shape. The crust should be about 1/2″ thick.
8. Pre-heat oven to 450 degrees
9. Let cool for 20 minutes until center is firm to the touch
10. Top with pre-cooked pizza ingredients
11. Bake for 10 minutes or until cheese on pizza has melted*
*DO NOT BAKE IT LONGER THAN 10 MINUTES! The center of the polenta crust will melt making it hard to transfer the slices to a plate with a spatula.
© 2013, the superdiva, dk. All rights reserved. www.thesuperdiva.com