Mmmmmm! Bananas! I have a friend who cannot stand bananas. As a child, I used to be horrified when a single banana for lunch would infiltrate the rest of my lunch with its scent. It was gross. Of course, these days, bananas are now one of my favorite fruits.
I made a variation of Chocolate Chip Banana bread from an excellent Vegan Diner book I received for the holidays. I was craving chocolate and banana, but didn't feel like the calories from all the flour in the bread. So . . . I made cookies! I shared some with my hiking friends. One of them, said they tasted like little muffins. Ha!
Before I went vegan, I started making vegan cookies. I refused to go vegan until I knew that I wouldn't have to give up delicious homemade cookies. To me, there is nothing like a delicious warm cookie fresh from the oven with slightly crunchy edges. Mmmmm! Cookies!!!! *nom nom nom!*
Coconut sugar is now my preferred sugar of choice. It isn't as sweet as regular sugar. I love that it is a 1:1 substitute for regular sugar. Since my family has a history of diabetes, any sugar with a low glycemic index wins in my book!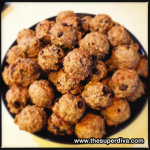 OATMEAL COCONUT BANANA WALNUT CHOCOLATE CHIP COOKIES
Prep Time: 15 min
Cook Time: 8-9 min per batch
Yields about 40-45 Small Two-Bite Sized Cookies (freeze half!)
Equipment Needed: Baking Sheet and a Mixer
INGREDIENTS:
2 Ripe Bananas
1/2 c Brown Sugar
1/4 c Coconut Sugar
2/3 c MINUS 1 TBSP Canola Oil
2 tsp Vanilla Extract
1/4 c So Delicious Coconut Chocolate Milk (or your favorite non-dairy milk)
1/4 c Flaxseed Mixture
1 1/2 c All Purpose Flour
1/2 tsp Baking Soda
1 1/2 c Oatmeal
1 c Chocolate Chips
1/2 c Shredded Coconut
1 c Chopped Walnuts
INSTRUCTIONS:
1. Pre-heat the oven to 350 degrees
2. Mash the peeled bananas using the mixer with the paddle attachment.
3. Transfer the mashed bananas into a separate bowl and set aside
4. Blend sugar and oils together in the mixer for about 2 minutes
5. Add vanilla extract, stir
6. Add flaxseed mixture, stir
7. Add coconut chocolate milk, stir
8. Add flour and baking soda, stir well
9. Add mashed bananas, stir
10. Add oatmeal, stir
11. Add chocolate chips, coconut, and walnuts
12. Using a cookie scoop, drop the cookie dough in rounded tablespoonfuls on to a baking sheet. I bake about 12 cookies at a time.*
13. Bake for 8 to 9 minutes until golden brown
14. Remove from oven and let cool for a couple of minutes
15. Enjoy! *nom nom nom!*
*If you don't want rounded cookies, you can flatten them with your fingers and bake them for a couple of minutes less.
© 2013, the superdiva, dk. All rights reserved. www.thesuperdiva.com