You heard me. I didn't stutter. Let me repeat myself just in case you missed it. Salted. Coconut. Caramel. *drools* Did you hear me this time?

This stuff is AMAZING! Screw putting it on something! I lick it right off the spoon. I hate popcorn; but this sauce makes me want to drizzle it all over popcorn. I even tried it on popcorn, but it didn't harden enough for it to be caramel corn. So, I went back to eating it off a spoon.
When I first saw this recipe, I was beyond excited. I pinned it to my "Dessert & Booze" Pinterest board right away. When I first tasted Salted Caramel Macarons at a new nearby French Macaron shop, I knew I had to make my own. Once I master my own macarons, I will post the recipe. I already made a trial version, sigh . . . they need work.
The Salted Coconut Caramel with apples was delicious. The caramel sauce drizzled over sliced bananas with a crushed Trader Joe-Joe's Vanilla Sandwich Cookie sprinkled on top was divine. I just returned from a Vegan Cupcake Brunch. My belly is full; I am all sugared out and yet . . . the thought of the caramel sauce with bananas and cookie crumbs just made me salivate.
For my contribution to the Vegan Cupcake Brunch, I brought mini Bourbon Vanilla Bean Cupcakes with Coconut Caramel Frosting. I must say with absolutely no modesty, that they are some of my best work. You will see that recipe next Monday. Until then, I will give you the link to what may become your newest addiction.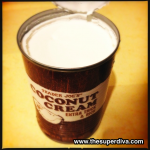 I found my Coconut Cream at Trader Joe's. Full fat coconut milk doesn't work (I tried it). It won't thicken enough as it chills. You need coconut cream. Make sure you refrigerate the cans of coconut cream upside down. The liquid will float to the bottom (now the top) of the can; so when you turn it right side up, the cream will be at the top to be easily scooped out. This upside down technique also works with natural peanut butter after you mix it just once!
I also used (my new favorite) coconut sugar in lieu of the white sugar. The natural caramelized taste of the coconut sugar really complemented the recipe. This recipe is so good that aside from subbing out the white sugar, I didn't change it. Make sure you let it simmer on the stove for 45 min to an hour before you refrigerate it. I have made this recipe about four times over the past two weeks. It is that good.
Yes, everything in the recipe is measured in grams. To bake many recipes properly, you should measure by weight instead of volume. I cannot say enough great things about Escali's Food Scale. I've tried many a food scale and this one, in my opinion, is the absolute best. If you don't have a food scale, just go get one! It is worth it alone for this recipe.
Here you go! Happy spoon licking!
© 2013, the superdiva, dk. All rights reserved. www.thesuperdiva.com