My brother and I used to talk about all the latest technology. I remember when Google was just a search engine and we discussed how cool it was. The day we discovered we could put a tracking number into Google and it would determine the carrier and give you a link to track the package was monumental. Google always had these secret features that you either discovered by mistake or stumbled upon in a technology article.
I've tried to price out airfares and hotels for some upcoming trips. My brother told me he uses kayak.com. I usually comparison shop with Orbitz and American Express Travel. On a whim, I Googled "cheap airfares." The first search result was (surprise!) Google Flights! Google what?! You mean Google searches the internet and finds me the best fare?! Yup. When did Google Flights start? Why have I not heard of it? How come Google was holding out on me?! I then Googled "Google Hotels" and guess what?! Google Hotel Finder also exists! I used to pride myself on being able to keep up with technology. I'm feeling like I am behind the times now . . . sigh.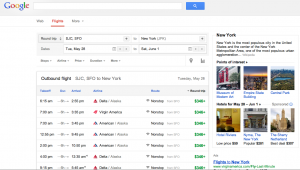 Google Flights works like a travel website. You put in your travel information and it returns flights and airfare information using all the airlines along with links to travel websites like Travelocity, Orbitz, Kayak, Expedia, etc. It does all the work for you. Once you choose your travel information, it also gives you the option of purchasing the ticket directly from the airline. It basically takes all the advertising and general confusion that slows down a travel search and simplifies it. I can easily change the day, pick my airline, select my layover destination, and search by price! There is even a graph option that allows you to see which day offers the lowest fare based upon the duration of your trip. It is amazing!
I've put off booking my tickets because I hate the online travel booking process so much. It was so easy that I started planning out my second trip too!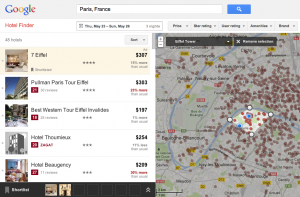 Google Hotel Finder works much of the same way as Google Flights. You put in your city and date information and it gives you search results. The difference it that along with standard pricing and hotel photos, you can narrow your searches down to regions of a city using a split screen with a (surprise again!) Google map! Clicking on a hotel and dragging it to the bottom of the window will allow you to keep a picture "Shortlist" of hotels you like that you can view later. Based upon the dates that you choose, it will even tell you how much more or less the quoted price is than usual. Imagine that!
According to Wikipedia, Google Flights has been around since September 2011. I couldn't seem to find out how long Google Hotel Finder has been around, but my guess would be that they started around the same time. I used to root for Google as the "Little [Search] Engine That Could." Now that they have grown into a huge company with anti trust issues, it is hard to root for them. I will say that I still wonder what is next for them. What cool thing will they come up with next? Or should I say what cool thing do that already have that will show up in my search engine on . . . (no surprise) Google.
© 2013, the superdiva, dk. All rights reserved. www.thesuperdiva.com