My father believes that if something is broken, to call someone to fix it. My mother believes if something is broken, to fix it yourself. People always marvel when I say I put in a (faux) hardwood floor, fixed plumbing, painted the outside of the house, etc. They always ask, "How do you know how to do that?!" I don't. If I want to fix something, I do a little research, head off to the hardware store, and just do it! It never occurs to me that I can't do something. Yes, I do screw up, but if you can't learn from your own mistakes, how are you ever going to learn.
We have an enormous bottle brush hedge on the side of the house. I'd say it is a least 30 ft long x 15 ft. high. It runs along the fence line at the edge of the decking giving us some privacy from the next door neighbors. The idea of paying someone about $500 to trim it really doesn't appeal to us. My mother said she saw someone trimming their hedges with a hedge trimmer on a pole. She said they just walked along and cut everything down pretty easily. After a little research we purchased an Earthwise Pole/Hand-Held Hedge Trimmer. We figured that we could at least trim the front and sides before bringing someone in to top it off.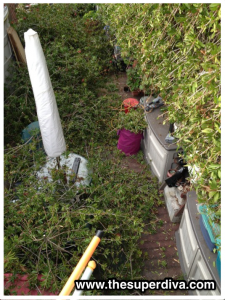 I unpacked the box, attached the pole, fired up the electric hedge trimmer, and I was almost done with the front of the hedge in under 20 minutes! This thing is amazing! Our old hedge trimmer doesn't even compare. My previous experience with Earthwise had been an electric leaf blower I found at OSH. I love it because it has a low decibel level AND it is efficient! Imagine that! I had also purchased an Earthwise power washer a couple of years ago that I didn't exactly love. It is not the best power washer. It could certainly use a design overhaul.
With a 50% success rate with Earthwise's products, I was skeptical. At $89.99 you can't beat the price and Amazon.com customers seem to love it. If needed, the head also rotates so you can get a better angle. I accompanied my hedge trimming with a Telescoping Pruning Stick and a Power Level Tree Pruner. I highly recommend Fiskars. The tree pruner extends up to 16 feet. Believe it or not, I stood on the roof, extended the 16 foot tree pruner and took 4 feet off of the top of the hedge. No, I do not recommend standing on the roof. When I was in high school, I used to help my mother patch our leaky roof. Our roofer was so impressed with my mother's skills he offered her a job. I am the superdiva on our roof. Safety is always the #1 priority. You must be extremely careful and watch your footing at all times. Also, never reach from something that is falling while standing on the roof. That would be stupid. Let it fall. Your life isn't worth it. If you are accident prone, I wouldn't recommend it. Be careful. Use good judgement and follow your intuition.
Trimming the hedge took me a couple of hours (with cleanup) and saved us about $500. I was having so much fun especially with the extra hour of daylight, that the hours flew by. When I was done with the front, sides and top, our deck was covered in bottle brush branches! I put as much as I could into the two yard trimmings bins. We will probably mulch the rest with our Chipper/Shredder/Mulcher. Yes, we have a mulcher. You didn't know? I am the superdiva! Of course I have one! Ha!
© 2013, the superdiva, dk. All rights reserved. www.thesuperdiva.com