I am not outdoorsy. The idea of camping makes me want to look for the nearest hotel. There are many things I would rather do than get my fingers covered in dirt. I always joke that I have a purple thumb instead of a green one. When it comes to gardening, I am a novice who likes to buy pretty plants, forgets to water them or sets up a sprinkler system and fails to maintain it. I guarantee you every plant I have purchased that has turned up dead in the yard is a direct result of neglect. The idea of watering something every day just doesn't appeal to me. Heck, it doesn't even occur to me.
Last year, I planted my first vegetable garden. Our backyard faces a creek. After watching the damage the outdoor critters wreaked on previous vegetable gardens and our fruit trees, I came out guns a blazing. I built a 4′ x 8′ raised garden bed with 6′ fence posts complete with locking doors covered in chicken wire. I planted organic spinach, beets, carrots, broccoli, cucumbers, tomatoes, lettuce, and two Habañero pepper plants. Unfortunately, my procrastinating self didn't finish lining the doors with chicken wire until it was too late. Something ate my beautiful head of broccoli before I could take a picture of it. The spinach grew wild and started flowering. I had no idea I had to put cages on my tomato plants quickly and pinch them out because they got out of control too. I also forgot to line the bottom of the raised garden bed with chicken wire, so a gopher (or two, I think) got in the bottom and had a field day making holes in my raised garden bed! My total yield for the garden was about 40 cucumbers, 3 carrots, 3 beets, 2 tomatoes, a couple of spinach leaves, and an unlimited constant supply of Habañero peppers. I had also planted some strawberry patches that ended up growing more strawberries than I could keep up with. Not bad for my first try!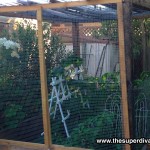 Within the next couple of weeks, I will be climbing into the raised bed, turning over the soil, lining the bottom with chicken wire (fool me once, gophers . . .), and planting new seeds. I have some heirloom lemon cucumber seeds I cannot wait to plant. My cucumbers were insanely good last year; I can't wait for this season. Strolling through the farmer's market in the sunshine made me giddy about planting season this year. It is true: There is nothing like homemade or home-grown. Store-bought and sometimes restaurant-made always pales in comparison.
I saw a picture of a gutter garden on Facebook. It was beautiful, so I googled it. The original blogger for the photo, Jayme Jenkins, was found by clicking on the photo in Google Images. I happily pinned it to Pinterest. Within hours, more than 40 people had repined it!
I plan to make at least two gutter gardens this week. One for veggies and one for flowers in our carport. If I can't figure it out, I will also build some kind of chicken wire awning over it to keep the outdoor riffraff from trying to climb down the wires to steal my veggies. I am on a mission this year. If I plant and water it, I should get to eat it too! Happy (almost) spring!
© 2013, the superdiva, dk. All rights reserved. www.thesuperdiva.com