I am not a cupcake fan. When it comes to sweet foods, I will take a cookie over a cupcake any day. C is for cookie, not cupcake! It is extremely rare to find me eating carbs in the form of cake. If I go in for a second bite, it must be divine! My stepmother refers to dessert as "quality calories." Don't eat it unless it is worth it . . .
About a week ago, I attended a Vegan Cupcake Brunch. Everyone was supposed to bring some cupcakes to share with the group. Originally, I was going to bring Margarita cupcakes. Unfortunately, I didn't love the trial batch I made. Given my new obsession with Vegan Salted Coconut Caramel, I knew I had to use it somewhere in the recipe. Thanks to Costco, I still had vanilla beans leftover from my Superfood White Chocolate. What better to pair with vanilla beans than bourbon?!
I made a trial batch and brought them in to work. They were good, but I wasn't impressed yet. I tweaked the recipe and baked another batch. I didn't eat one until after my regular Sunday hike. On the drive home, I couldn't stop smacking my lips and exclaiming, "Oh My God! This is sooooo good!" I was floored by the wonderful blend of flavors.
I brought the new batch (now mini cupcakes) to work. The whole batch quickly disappeared. Out of all the desserts I have every made, these are some of my best work. I've been eating mini cupcakes all week! As someone who doesn't like cupcakes, these quality calories are worth every bite and every subsequent workout!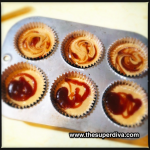 BOURBON VANILLA BEAN CUPCAKES
Yields 12-14 Large Cupcakes or 48 Small Cupcakes
Prep Time: 10-15 min
Bake Time: 18-20 min
INGREDIENTS:
1 1/4 c Unbleached All Purpose Flour
1/2 c Whole Wheat Pastry Flour*
1 teaspoon Baking Powder
1 teaspoon Baking Soda
2 tbsp Cornstarch
1/2 tsp Cinnamon
1/2 tsp Ginger
1/2 tsp Allspice
1 c Coconut Sugar
1 cup Coconut Milk
1/2 cup MINUS 1 tbsp Canola Oil
2 tbsp Vanilla Extract
1 tbsp Apple Cider Vinegar
1 Vanilla Bean
1 tsp Orange Zest
3 tbsp Mid-Grade** Bourbon
4 oz (or about 1/2 c) Salted Coconut Caramel
INSTRUCTIONS:
1. Pre-heat oven to 350.
2. Sift together Flours, Baking Soda, Baking Powder, Cornstarch, Ginger, Cinnamon, and Allspice.
3. Combine Coconut Sugar, Coconut Milk, and Canola Oil together, mix well
4. Add Vanilla Extract and Apple Cider Vinegar, mix
5. Slice the Vanilla Bean lengthwise and scrape out the seeds with a spoon
6. Mix in the Vanilla Bean seeds and Orange Zest
7. Stir in the Bourbon
8. Add half the sifted flour mixture, stir
9. Add the second half of the sifted flour mixture, combine well
10. Using a cupcake pan with liners, fill each liner 3/4 of the way full
11. Heat about 4 oz. of Coconut Caramel in a small microwave-safe bowl for no longer than 10 seconds
12. Drizzle no more than 1/2 tsp of heated Coconut Caramel over each of the uncooked cupcakes
13. Using a toothpick, swirl the caramel into each of the liners filled with batter just enough to incorporate it, but not enough to mix
14. Bake for 18-20 min for regular cupcakes or 8 min for mini cupcakes until a toothpick inserted into the center comes out clean.
* If you don't have or wish to use whole wheat pastry flour, use 1/2 c all-purpose flour instead
**Just don't use the cheap stuff!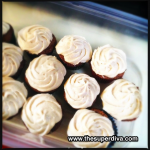 SALTED COCONUT CARAMEL FROSTING
Prep Time: 5 min if Caramel is already prepared, 1 hour, 5 min otherwise
Yields: A lot of frosting, but the perfect amount if you use a pastry bag to frost the cupcakes. 😉
INGREDIENTS:
1 1/2 lbs Powdered Sugar
1/3 c (2/3 stick) Earth Balance (Vegan Butter)
1/4 c Coconut Milk
1 1/2 tsp Vanilla Extract
4 oz (or about 1/2 c) Salted Coconut Caramel (cooled or warm, it doesn't matter)
INSTRUCTIONS:
1. Combine (with a mixer) 1 lb. of powdered sugar, Earth Balance, Coconut Milk, and Vanilla Extract.
2. Add Salted Coconut Caramel, mix well.
3. Mix in the last half pound of powdered sugar until frosting is smooth, slightly stiff, and shiny,
4. Once the cupcakes have cooled, frost them!
5. Enjoy!
© 2013, the superdiva, dk. All rights reserved. www.thesuperdiva.com