I was planning on returning my Wii via Amazon.com's Trade-in Program. It was just collecting dust and quickly losing value. In an effort to change-up my workout routine, I remembered that I used to do Gold's Gym Cardio Workout for the Wii and I really liked it. Before I returned my Wii, I thought I would give it one last try.

According to the Wii, I hadn't used it in almost two years. After a couple of minutes of play time, it was clear that I still loved Gold's Gym Cardio Workout. There is a reason why it is often the number one workout for the Wii on Amazon. Thanks to being able to change the workout background and the music, it never feels like the same thing. I prefer "A La Carte Shape Boxing" over a "Prepared Routine." I usually choose a 5-6 minute warm-up followed by two 16 minute boxing sets. It is a full body cardio workout focused on your core.
Before, I never made it past the Advanced level in Shape Boxing because I'd get tired. It was a delight being able to unlock all the Special routines because this time around I was in much better shape! Traditional boxing moves like jab and uppercut are accompanied with ducking, weaving, and stepping in all directions. You will be sore the following day; but, you will have had so much fun that you'll do the workout again anyway.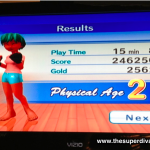 I will admit I've had problems with it recognizing my punches. I had hundreds of right and left crosses go unrecognized before I realized that I had to punch while swinging inward. It is pretty exact. If you don't do the punch (or move) as directed, it won't register. If I am too far away from the television, my percentage of accuracy will drop as well. The only ones I still occasionally have problems with are the blocking moves. I am giving the Wii the benefit of the doubt and assuming it is me. I don't care too much about the accuracy rate because I know I am working hard, burning calories, and getting an awesome workout.
I had so much fun that I chose it for all of my weekday workouts for three weeks in a row. I love my kettlebells. I wouldn't be a size 4-6 without them; however, it is always nice to change things up and cross train. Work new muscles, dance along to the music, and fine-tune your boxing skills. Gold's Gym Cardio Workout for the Wii is superdiva approved!
© 2013, the superdiva, dk. All rights reserved. www.thesuperdiva.com