I had the pleasure of being introduced to a new retro candy, soda, and sign shop downtown. I had never seen so much old-fashioned sugar in my life. The only thing I ended up getting was a container of cotton candy. Like most kids, I loved cotton candy! It used to be that you could only find cotton candy at amusement parks. I was skeptical about the small tub of vanilla snow flavored cotton candy, but if it was anything close to what I remembered, it was going to be divine.

I had a little cotton candy every night for about four nights in a row. It was so delicious, that not only did I go back to buy more cotton candy for holiday gifts, I went on Amazon.com to find myself a cotton candy machine. There seem to be only two price points for machines online. You can get one for $35-40 or opt to spend $235! It is ridiculous that there aren't any machines in between those two prices. I added the highest rated (and cheapest) machine to my Xmas Amazon Wish List and waited patiently for Santa. Lo and behold Xmas morning, Santa had given me the exact cotton candy machine that I asked for!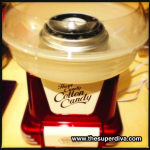 The Nostalgia Electrics Retro Series Hard and Sugar-Free Cotton Candy Maker costs about $35-40 on Amazon.com. For an appliance, it doesn't take up too much space. It is easy to assemble and clean. One of the aspects that I love about it is that you can use hard candies like peppermints or Jolly Ranchers to make your own cotton candy.
The first week that I got the machine, I am pretty sure I made cotton candy every night. I found that the best sugar for the machine is definitely floss sugar. Hard candies do work, but the cotton candy spins better and comes out fullest and fluffiest with floss sugar. My biggest cons are that it takes about 10 minutes to properly heat up the first batch of sugar and it is a little noisy as it warms up. Once the machine is warm, it hums nicely, and the cotton candy spins quickly onto the two included cones.
The best part of it all is that two scoops of floss sugar is equal to 100 calories! I can make an enormous ball of cotton candy in under ten minutes and it becomes a sweet and sticky 100 calorie dessert! I love it! Now, I am craving cotton candy . . . *smacks lips*
© 2013, the superdiva, dk. All rights reserved. www.thesuperdiva.com