I am not a fan of mainstream household cleaners. If I have to close the door to the bathroom and turn on a fan while the (most likely) toxic fumes dissipate, no one should use it. If the bottle says, "Do not inhale," no one should use it. If the bottle warns about being careful not to let it come in contact with one's skin, no one should use it! My cleaning supplies consist of pleasant smelling non-toxic biodegradable household cleaners by Method, Seventh Generation, and Mrs. Meyers.

The cheapest and most versatile household item is a great rinse for glassware, can kill weeds in the sidewalk and driveway, remove rust, unclog my sink, clean counters, brighten up a stir fry, work as a salt substitute in recipes, neutralize odors (think skunks!), and costs so little, I sometimes feel like the company is just giving it away. I can buy a box of two 2 gallon containers of it for $3.59 at Costco. It is white vinegar. The only thing I don't like about it is the smell. Blech!
I had thought about purchasing C.L.R. (Calcium Lime Rust). My bathroom sink fixture along with a tension rod shelving unit in my shower get rust buildup. I had gotten so frustrated that I took a Dremel tool to my faucet to remove the rust. It worked, but I also took off some of the finish. Sigh. After doing some quick research on C.L.R., it was evident that it was far too toxic. In my research, I stumbled upon some forums that mentioned using white vinegar for rust removal.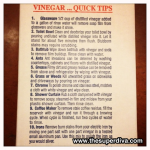 After filling a spray bottle with white vinegar, I sprayed my bathroom sink fixture. After about ten minutes, I went back with an old toothbrush and scrubbed away the rust and lime build up in under a minute! It came right off. The rusted shelf in my shower immediately got sprayed with white vinegar. Ten to fifteen minutes later I went back and managed to scrub away about 40% of the rust. I rinsed it off and sprayed again. Apparently, you can soak anything with rust in white vinegar overnight and the rust will come right off without scrubbing. All you have to do is rinse it with water. Not bad.
There are so many great household uses for white vinegar! Pouring white vinegar on weeds kills them. Be careful! I recommend only using white vinegar on your driveway and sidewalk. The vinegar can change the pH balance of the dirt and kill your flowers and other plants.
I've used white vinegar for years. 1/2 c of baking soda and 1 cup of white vinegar can even help to unclog a sink. At almost $1.50 per gallon, it really is the most underutilized item in your pantry!
© 2013, the superdiva, dk. All rights reserved. www.thesuperdiva.com