Oh Tofu! Those who say that "tofu has no flavor," have never had it properly cooked. The ability to give tofu any flavor you want is part of its brilliance. You can stir-fry, bake, marinate, skewer, press, and/or grill it. The options are endless.

I found La Tourangelle's Stir Fry and Wok oils in (surprise!) Whole Paycheck. After using their Basil Lemongrass infused Wok oil, I don't know if I can ever cook again with a different oil. My dishes now have more depth. My tummy is fuller with the lemongrass oil because I want to eat even more. I now will have to make my own basil lemongrass infused safflower oil when I run out. It is that good.
I've spent years stir frying tofu. Knowing I couldn't achieve the crispiness of restaurant fried, I still tried to get an ounce of the same deliciousness. This week, I broke out my sauté pan instead. I had yet to use the wok oil. There certainly was no need for a wok for me to try the wok lemongrass oil. I heated up the pan with the oil. My kitchen started to smell like lemongrass. I sniffed, smiled, and sniffed again. The tofu was so good, I made it four times last week. I added it to a greek salad with cucumbers (twice), a kale salad with peppers, had it over quinoa, and even had a couple of pieces for a quick snack.
Remember, any and all tofu and other soy products that you consume should be organic. Soybeans are one of the most genetically modified foods. Don't even get me started on the pesticides . . .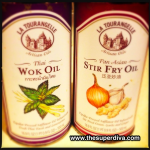 LEMONGRASS SESAME GINGER TERIYAKI TOFU
Prep Time: 5 min
Cook Time: 15 min
Equipment Needed: Sauté Pan, Chef's or Santoku Knife, and a rubber Spatula
INGREDIENTS:
1 tbsp La Tarantelle's Basil Lemongrass Wok Oil (Whole Foods)
1 lb Extra Firm Organic Tofu
1/4 c Nutritional Yeast Flakes
1/2 c Organicville's Sesame Teriyaki Sauce (or your favorite asian sauce)
1/2 tbsp Ground Ginger
1/2 tbsp Garlic Powder
1 tsp Dried Parsley
1/4 tsp Fresh Ground Black Pepper
INSTRUCTIONS:
1. In a sauté pan, heat oil on medium-high.
2. Using a large piece of paper towel, firmly press all sides of the block of tofu to release the excess moisture.*
3. Cut the tofu into 1/2 inch cubes.
4. Add tofu, nutritional yeast flakes, teriyaki sauce, ginger, garlic, parsley, and black pepper
5. Stir until the ingredients are mixed and the tofu is coated in sauce
6. Make sure at least one side of each cube of tofu is touching the pan.
7. Cook WITHOUT STIRRING for 5-7 minutes
8. Use a spatula to stir the tofu
9. Again make sure at least one side of each cube is touching the pan
10. Cook for no more than 5 minutes WITHOUT STIRRING.
11. Stir again
12. Remove from heat
13. Enjoy!
*No, I don't have a tofu press. You can alternately at least 20 minutes ahead of time sandwich the tofu in between two plates and paper towels with two cans of beans on top for weight. Sometimes, I don't think that far in advance . . .
© 2013, the superdiva, dk. All rights reserved. www.thesuperdiva.com