"A poor woman's Vitamix," is what I called the NutriBullet when I first saw and had it described to me by my Mother. She was so excited. I had thought about using my Amex reward points to buy a Vitamix, but I couldn't justify the purchase because I knew I wouldn't use it that often. This seemed like a good interim solution.

Initially, not only was I not impressed, I had no intention of using it. I only tried it because it was smaller than the blender and easier to clean. Before trying it, I watched this YouTube video that did a side by side comparison of the NutriBullet and the Vitamix:
While I don't LOVE it, I think it is a great option for more blending power in a smaller package. It comes with large and small blending bullet cups, a small bullet cups a handle, a blade for blending, and a blade for making nut butters. Honestly, my KitchenAid food processor does a better job at making nut butters. The NutriBullet does, however, do an excellent job with all kinds of smoothies. I was impressed. You just dump everything in, fill it to the max line with liquid, screw the lid on with the blending blade, flip it over, and push it into the base to turn it on.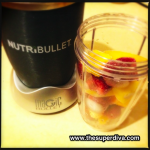 The power is impressive for such a small machine. My No Cook Banana Pudding was made in the NutriBullet. I was researching a lazy err . . . I mean quick way to make sorbet and stumbled upon a NutriBullet blog with an instant sorbet recipe. I tossed in the 1/2 cup of frozen fruit it recommended and turned it on. I don't know how the woman got it to blend without liquid. Nothing blended together until I added about 1/4 cup of liquid (water or coconut milk work for me). The result was a little runny, but delicious, quick, and healthy. Overall, I was pleased with the result.
It should have an on/off switch. In my opinion, an electrical appliance without an on/off switch is just poor design. My biggest gripe is that because you fill it and then turn it upside down to blend, when making sauces, all the ingredients don't end up being mixed. I always end up having to take the lid off, use a spatula to mix the bottom, put the lid back on, turn it upside down, and turn it back on. It is annoying. Unless it is a smoothie, nothing every seems to get fully incorporated.
I will say though, since its purchase, the blender has remained untouched. Despite its shortcomings, the NutriBullet is much easier to use. Cleanup is easy too. Just fill the recently used Bullet cup with a little water and a drop of soap, blend until frothy, and rise with warm water.
I saw a Blendtec demoed at Vegan Iron Chef SF a couple of weeks ago. I really want it! A Vitamix is no longer on my radar. Since the Blendtec is over $400, I'll stick with the NutriBullet . . . for now. It is a well-designed, highly functional product in a small package. I recommend it.
© 2013, the superdiva, dk. All rights reserved. www.thesuperdiva.com