In college, I spent a semester abroad in London. One of my flat mates had a love affair with mushrooms. I was weirded out. My mother loved mushrooms too. To me, the idea of eating fungus was just plain gross. Back then for me, mushrooms belonged cooked on a pizza and nothing more.

Recently, I've developed a like for all things mushrooms. Mushrooms are low in calories, high in B vitamins and other nutrients, filling, and give you that chewy texture that can satisfy you if you are searching for something of the faux meat variety. I've made Grilled Portobello Mushroom Pizzas, Portobello Mushroom and Kale Tacos, and even been inspired by others to make vegan scallops using the sliced stems of King Oyster mushrooms. There have even been rumblings in the blogosphere about making vegan "bacon" with mushrooms.
As a vegan, working a restaurant can be tough. Our executive chef is one of my favorite people at work. I've noticed that he has started to add more vegan items to the menu. Last week, he added a vegan entrée to the menu. In all my years of working there, there has NEVER been a vegan entrée. It is nice to know that by just being there I've made a difference.
There is a marinated mushroom dish that often shows up on banquet appetizers. I've always steered clear of it because eating fungus didn't appeal to me. When a banquet ordered all vegan appetizers, I couldn't resist trying the mushrooms. They were divine! I ate so many of them that I had to go home and make my own.
I know the marinated mushrooms at work use sherry vinegar, garlic and shallots, but I just used whatever I had in my pantry. They were still delicious. This recipe is not only easy, but hard to mess up.
After making the marinated mushrooms, I ended up making lettuce tacos for lunch AND dinner. Toss them in pasta, a stir-fry, salads, tacos, or just devour them by themselves. Be creative!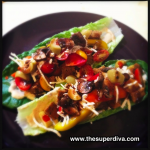 MARINATED MUSHROOMS
Prep Time: 5 min
Bake Time: 20 min
Cool Time: 10 min
Equipment Needed: Baking Sheet, Chef's or Santoku Knife, Spoon, a Medium-Sized Bowl, and an Olive Oil Sprayer (optional)
INGREDIENTS:
1 Tbsp Olive Oil (in an olive oil sprayer is preferrable)
3-4 c Mushrooms (2-3 medium packages), cut into bite-sized pieces (portobellos, crimini, shiitake, button, etc.)
1 tbsp Olive Oil (see olive oil sprayer note above)
1/4 c Red Wine Vinegar
2 tbsp Balsamic Vinegar
1 tbsp Garlic Powder (Fresh, if you have it, but I'm too lazy!)
1/2 tbsp Parsley
Black Pepper to Taste
INSTRUCTIONS:
1. Pre-heat oven to 425 degrees.
2. Line a baking sheet with foil and spray with 1 tbsp olive oil.
3. Spread mushrooms out onto baking sheet.
4. Drizzle or spray remaining tablespoon of olive oil.
5. Bake for 20 minutes or until mushrooms are slightly tender and juicy.
6. Remove from oven and let cool for about 10 minutes.
7. In a bowl, toss mushrooms, vinegars, garlic, parsley, and black pepper together.
8. Enjoy immediately or place in the fridge and eat the next day for a stronger flavor. *smacks lips*
© 2013, the superdiva, dk. All rights reserved. www.thesuperdiva.com