Last year at Costco when I saw these pants, I made a face. It has been my experience that well-fitting pants and Costco don't exactly go together. I remember when Costco used to be Price Club. It was known for toilet paper, large televisions, and snacks . . . not clothes and refrigerated foods.

Now that spring has sprung, I've been searching for the perfect pair of capris. This time last year, I was at least 45 pounds heavier. I do not have any clothes that fit me for spring and summer. One of the women I hike with, Kristin (yes, I mentioned you this time), bought the capri pants last year. Even though she raved about them, I was still skeptical when I saw them in the store. After all, they were still Kirkland Signature pants. I remember when Kirkland Signature started making batteries. What in the world did they know about pants?! Pfft!
For $16.99 with a choice of multiple colors, I decided to buy one pair and try them out. Of course I was going to get the purple ones, but I couldn't decide between a medium or a small. I am a size 4-6. After being overweight my whole life, I haven't yet been able to wrap my brain around the idea that I am a small. I decided to get a medium.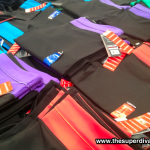 I loved them! The pants made my stomach look flatter and the little that is left of my love handles didn't appear when I had the pants on. My legs had shape and so did my butt. The hidden pocket in the waistband is actually big enough to store keys or a cell phone in the upright position. I loved them so much I went back for another pair in a size small.
I ended up buying a purple pair and a red pair. To my utter shock and delight, the small fit! They are moisture-wicking and super comfortable. I can wear them hiking and then run my Sunday errands without feeling like I need to change immediately.
I am perplexed as to why they are advertised as reversible. They are black on both sides so the only difference is the colored waistband. If my pants are dirty, why would I turn them inside out and wear them again? If the pants are dirty, wash them!
Costco's Kirkland Signature Capris have quickly become my go to pants for the rest of spring and summer. I am a huge fan of them. Now, go get your own pair so you can rave about them too!
© 2013, the superdiva, dk. All rights reserved. www.thesuperdiva.com