You didn't think I stopped doing Insanity did you? I started the second month of the two month program on Monday. Being the brilliant superdiva that I am, instead of taking a day off on Sunday, I went for a grueling uphill 7-mile hike. I knew my Insanity workout on Monday was going to be bad. Unfortunately, I had no idea what I was in for . . .

One of the people I met recently at Vida Vegan Con was Vegan Diet Guy. We've since had these interesting conversations about nutrition and exercise. He mentioned that he had tried energy gels during a marathon to avoid "hitting a wall." I, again being the brilliant *sarcasm* superdiva that I am, exclaimed that "I'd never hit a wall in my workouts before." We then discussed the bizarre chemical ingredients in energy gels, the book "Born to Run," and how the Latin American distance runners in "Born to Run" use chia seeds for energy. That was on Sunday.
On Monday, after expecting my regular 40-minute Insanity workout, I got a rude awakening with a 20-minute Fitness Test and an INSANE hour-long Insanity workout. I never look at what workout is coming up next. I'd rather not know until minutes before. It reduces my excuses not to workout. 😉 My body was already sore and slightly tired from my hike the day before. I hit a wall. It didn't even occur to me what it was when it happened, but I . . . had . . . hit . . . a . . . wall.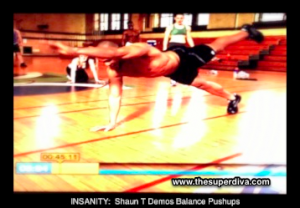 Later that evening, after I realized what had happened, I started doing some research on chia seeds for energy. I've tried (and written about) chia seeds before. Chia seeds are high in ALA omega-3s, fiber, antioxidants, minerals, and they do in fact increase your energy level. Since I try not to keep juice (too much sugar and calories!) in the house and didn't want to use water, I was faced with the challenge of finding something to soak the seeds in so I could drink them.
I do drink limited quantities of aloe vera juice to reduce inflammation for health reasons. It is also a natural energy booster. The 365 Pomegranate Cranberry variety from Whole Foods that I drink is so tart that I can't drink it before a workout because it doesn't "sit right" with me. I found a post using coconut water; but, I only had unsweetened coconut milk. I tried soaking 1 tbsp of chia seeds in 4 ounces of milk and 2 ounces of water for about an hour before I started my workout. I took small sips as I worked out and it helped me tremendously! The unsweetened coconut milk was still too sweet and chalky for me though. In the past, I have also used just plain water and lime juice with chia seeds (we have a lime tree). Lemons would certainly work; I just happen to prefer limes.
Most people soak their seeds overnight for their chia seed "energy gels." Soaking anything overnight is far too much planning for me. Remembering to soak the seeds an hour before I workout is hard enough! After an unintentional guilt trip/lecture and reminder from Vegan Diet Guy, I soaked 1 tbsp of Chia Seeds with 1/2 c of water the night before and added the juice from half a lime in the morning. While I can't say after soaking the seeds overnight that there was a significant difference in terms of my workout performance, the chia seeds were certainly more gelatinous! Overall, I am delighted with the results and will be using chia seeds regularly as an energy booster for my workouts.
© 2013, the superdiva, dk. All rights reserved. www.thesuperdiva.com