Years ago, I use to say to myself, "If only I could get rid of the carpet, I'd workout more." Shortly afterwards, I ripped up the carpet and put in a faux hardwood floor. Yes, I put in the floor complete with mitered baseboards all by myself! How I did that will be in another post. Now, here I was with this nice new floor . . . and I still didn't workout. The floor over a concrete foundation was too hard and it had no give. Excuses, excuses, I know. Seriously, though it was awful. So, I purchased a cushioned puzzle piece style interlocking floor mat.

Sure, it still took me a while to finally get in the habit of working out, but the cushioned floor certainly eliminated a major excuse. After actually using the interlocking floor mat, the mat tiles started to slide around. I cut some non-skid carpet padding into strips and placed them underneath each of the 2′ x 2′ pieces of the floor mat. It worked until I started doing more high intensity exercises like burpees, sprawls, mountain climbers, and the craziness that goes with the Insanity workout. Faced with the prospect of replacing some of the mat tiles, I decided to look for a new floor mat in hopes that I could find something better.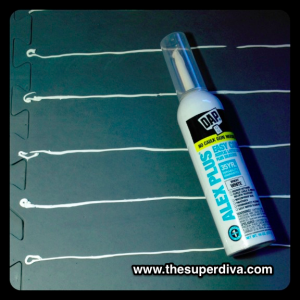 Lo and behold, I stumbled upon a Martha Stewart tip on Pinterest. The photo showed how instead of non-skid carpet padding you could just use lines of caulking! Of course, I had to try it. Being the household DIY superdiva that I am, I already had PLENTY of caulking!
I'm a huge fan of DAP's No Caulk Gun Needed Easy Caulk. The caulking is in a pressured can. Neither OSH or Home Depot seem to carry the Easy Caulk. I found mine at Target. All I have to do is tilt the long tip forward to dispense the caulking! Genius. It reduces the mess of working with a caulking gun and makes caulking a joy instead of a dreaded clunky mess.
I applied caulking lines about 3 or 4 inches apart on one of my floor mat tiles. I even squirted a dot on each of the puzzle edges where they connect together. Don't worry about making it neat. No one will see it! I decided to leave the non-skid carpet padding in place and just put the mat now with caulking directly over it. I've since completed a week's worth of Insanity workouts and the mat hasn't moved. I now spend less time worrying about sliding or destroying the mat and more time lamenting my decision to do Insanity . . . 😛
Even though the mat is portable, I just leave it on the floor. It is so easy to put together that if you have company over and/or just wish to move it, taking it up and putting it back down is so simple. If you can assemble an 8 or 9 piece puzzle, you can handle this floor. It is a non-skid portable workout mat with a superdiva twist! Enjoy your next workout . . .
© 2013, the superdiva, dk. All rights reserved. www.thesuperdiva.com