At one point in my life, I am sure I had more than 60-70 pairs of shoes. As I've grown older (older, not old!), I've made a conscious effort to rid myself of things I don't need and/or haven't used recently. My shoe collection is probably down to about 30-35 pairs now. I still love shoes, but if I am going to purchase a new pair they need to be more than cute; they also need to have a recurring purpose. A cute one-time use pair doesn't cut it. I've left many a gorgeous pair of shoes online or in a store simply because I either didn't see myself wearing them more than once if at all. I'd like to think I've gotten not only more practical, but wiser. 😉

It is a challenge shoe shopping sometimes. The shoe section of my closet is filled to capacity! The only reason I am even looking at shoes is because I am heading out to the east coast this weekend for a friend's wedding. It is one thing to lose over 50 pounds. It is another to have to buy two cocktail dresses (ceremony and a day before event) for NYC complete with shoes to match with a whole new smaller girlish figure.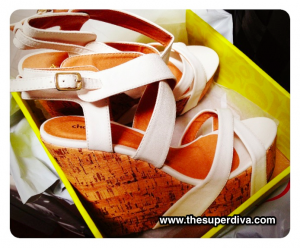 After searching for weeks and settling on two cute dresses, I had to find shoes. The shoe inventory of the stores in my area didn't excite me. I ended up googling "vegan wedge shoes." One of the first results was Charlotte Russe. Originally, I was looking for a baby blue wedge, but decided it was near impossible and changed my plan. I was giddy when I found that Charlotte Russe labels what shoes are vegan on their website. I didn't have to scour the product descriptions for "man-made" keywords! I was so excited that not only did I buy a vegan pair of white wedge shoes, I got a black vegan belt too!
Unfortunately, the belt stunk of a pungent chemical leather smell and the shoes, while cute, were too high for me. After one use, my new vegan belt was already showing signs of wear. I pranced around the house in my white platform heels and quickly concluded that I couldn't sustain that kind of calf and thigh workout for longer than 5 min! The last thing I want to do is fall off a 6″ high wedge shoe (2″ platform) in NYC!
Google must've known what I was looking for because I saw an ad on a webpage for LuLu's. I didn't click on the link the first time. After seeing the ad another three or so times, I finally acquiesced. I only allowed myself to look at the shoes. LuLu's has a link for their vegan shoes! I don't have to worry about falling for non-vegan shoes! I LOVE it! I purchased what has become (second only to my Vibrams) my favorite pair of shoes! Bamboo's Turquoise-Sea Green Wedge Shoes! The platform height is manageable and they are cruelty-free!!! Look out NYC! *happy dance in my new wedge shoes goes here* 😀
© 2013, the superdiva, dk. All rights reserved. www.thesuperdiva.com