I'm very picky about my lip balm or gloss. The only makeup I wear is mascara. After 20 years of doing my makeup for musical theatre, I've gotten the face painting thing out of my system. Makeup just doesn't appeal to me. My lip gloss is "my thing." It can't be too shiny, sticky, stinky, colorful, or taste funny. It needs to be at Goldilocks's standard!

The handful of body products from the Vida Vegan Con Swag bag and my Blissmo Box have been sitting patiently in my bathroom. I'm picky and set in my ways when it comes to bath and body products so it takes a lot for me to try something new. I've been staring at two lip balms, one from the VVC Swag Bag and one from my new Blissmo box, on my bathroom counter for a couple of days now. Before going to bed, I decided to try the Chai Spice Hurraw Lip Balm from the Blissmo box. OMG! OMG!! It was divine! I've been looking for a cheaper lip gloss for a while now. The Chai Spice flavor smells insanely good, has the right amount of gloss, is made from raw ingredients, its fair trade, organic, AND vegan! Oh my stars and lips!
I went to their website, HurrawBalm.com, to find out more information, pricing, and retailers. Amazon sells them for TWICE the price! No, thank you! I couldn't resist trying a handful of flavors. At less than $4 a stick, not only will it not hurt my wallet, it will allow me to keep and try different flavors in my purse, bathroom, and at work! *happy dance*
The flavors I ordered were Pitta, a Blue Chamomile Vanilla Moon for night-time, and Coconut. My favorite is still the Chai Spice. The Coconut is a very, very, very distant second. In the future, I will only buy the Chai Spice Balm.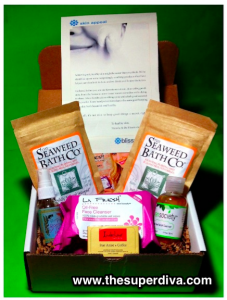 I've developed a love for monthly subscription boxes. As someone who LOVES mail and packages, getting a surprise box every month makes me squeal with glee! In an effort to support more vegan companies, I signed up for a Blissmo box and a Vegan Presence box. The Blissmo box arrived first. Since there are two different option of boxes you can choose each month, a beauty and a food, I'm going to refrain from giving a full review until after I receive the food box next month. So far, the only thing I liked in the box was the Hurraw! Chai Spice Lip Balm . . . uh oh.
© 2013, the superdiva, dk. All rights reserved. www.thesuperdiva.com