I was about halfway through the second month of the Insanity Workout when this workout DVD arrived in my June PopSugar MustHave Box. I was burned out, exhausted, and hitting walls with Insanity. While, I didn't think a chair workout would be that strenuous, I wanted nothing more than to stop doing Insanity and try something new. It took everything I had to not even take the plastic off of the DVD case, exercise the power of restraint, and complete Insanity.

After spending one post-Insanity workout rekindling my love for my kettlebells, I unwrapped the Addicted to Sweat 4 Jaw Breaker Chair Workout DVD and started previewing it. It was advertised as a workout by Madonna's personal trainer, Nicole Winhoffer and fashioned after Madonna's workout program, Addicted to Sweat, at Hard Candy Fitness. I done a couple of workout DVDs that have been endorsed by celebrities and I have not been impressed. So, I was skeptical.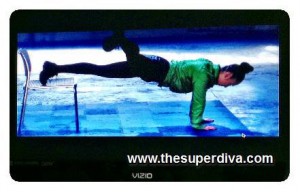 The warm up was interesting, slightly unconventional, dance oriented, and involved a sturdy chair. The workout is only about 20 minutes. After 60 minutes of Insanity, I was sooo excited that I could try a 20-minute workout! It may have only been 20 minutes, but it felt like at least 30 minutes. The woman on the screen, Nicole Winhoffer, is wearing long black leggings and a puffy green jacket. Yes, a puffy green jacket! She made everything seem so effortless. I spent most of my time gasping for air, sweating, or feeling the burn! It is a fantastic workout for a change of pace!
Since I don't have a chair sturdy enough to jump up and down and stand on, I used a very very sturdy folding stool that doesn't have handles. It is the same stool I use for bench work with kettlebells and for reaching things in the top of my closet. 😉 When the workout required you to hold on to the back of a chair, I managed to move the stool and hold on to the side of a desk for support. If you don't have a sturdy chair either, get creative, but ALWAYS BE SAFE. If it doesn't feel sturdy, it probably isn't. Compromising your safety isn't worth any number of calories!
I liked the workout so much, I did it two days in a row. While 20 minutes is a welcome break from 60 minute Insanity workouts, I still tack on another 8-10 minutes of kettlebell training to make sure that I get a good solid 30 minutes of high intensity cardio.
On Amazon.com there is a four-disc Addicted to Sweat box set that includes the disc 4 Jaw Breaker Chair workout. It looks like disc 4 is the only one that uses a chair. The box set gets mixed reviews which is unfortunate because I liked the disc 4 chair workout so much that I was willing to buy the set. Now I guess I'll just have to wait to see what workout DVD PopSugar sends me next!
© 2013, the superdiva, dk. All rights reserved. www.thesuperdiva.com