Toasted Coconut Almond Milk. Need I say more?

I have never been a milk drinker. The only dairy product I liked was cheese. No butter, eggs, whipped cream, ice cream, or yogurt. I guess, for me, veganism was inevitable! When people started finding out that I had gone vegan some went so far as to tell me that I would get sick. Seriously? Eating fruits, veggies, nuts, and grains coupled with regular exercise has made me healthier than I have ever been in my entire life!
A couple of years ago, I had a sharp pain in my lower left pelvic area. My doctor and I couldn't figure it out. While googling "pain lower left pelvic area," I found something that mentioned that it could be caused by a calcium deficiency. As someone who doesn't drink or like milk, I was hopeful that a calcium deficiency could be the culprit. I immediately started drinking coconut milk and after MONTHS of pain, the symptoms were gone in days. This year, I had sporadic tingling in my fingers. I had my blood tested for everything including B12. Based upon my past experiences, I was sure there was a high chance that it was a vitamin deficiency. Since all my tests came back normal, I was forced to re-evaluate my diet again. I had stopped taking a daily multivitamin after reading mixed studies about whether multivitamins do more harm than good. Upon resuming my multivitamin, the tingling in my fingers went from to sporadic to nonexistent. Cereals and plant-based milks have (and are often fortified) with vitamins and calcium that some vegans might not get otherwise. Milk and cereal are not foods that I crave or eat regularly (if at all). While I am still not super conscious of my nutrient intake, I am conscious of when I run into health problems that it might be due to a lack of something that my body needs to function properly.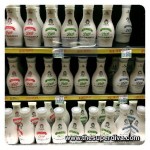 I discovered Califia Farms' Toasted Coconut Almond Milk Blend on a trip to Whole Paycheck (Foods) of couple of weeks ago. My non-milk drinking self was intrigued by not only the flavor, but the bottle design. After one sip I immediately felt like I had given my body something that it was lacking. I literally made the commercialized "Ahhh!" sound because it felt that good! The Toasted Coconut Almond Milk is satisfying and decadent enough without inflicting guilt. It only has 50 calories in an 8 ounce glass! Add 50% of the RDA of Vitamin B12, 45% Calcium, 25% Vitamin D, and ZERO grams of sugar and I have finally found a milk I want to drink (and now crave) on a daily basis. I no longer take a multivitamin, but I also no longer have lower left pelvic pain or tingling fingers.
Califia Farms also has unsweetened, original, and vanilla almond milk flavors along with juice and iced coffee varieties. Their products are sold in the refrigerated sections of higher end grocery stores like Whole Foods and even in Tar-zhay (Target). I am so in love with Califia Farms Toasted Coconut Almond Milk Blend that I don't even want to try the other milk varieties. I am hooked and loving it! *smack lips*
© 2013, the superdiva, dk. All rights reserved. www.thesuperdiva.com