Ahhh! The Big Apple. Second only to Paris, NYC is my favorite city. I used to live in the city years ago when I studied theater for a semester at NYU Tisch. This time, I was a vegan in New York. I arrived with a whole list of vegan places I wanted to try. Since I was only in town for a wedding, I had four days and two nights to try all the vegan/ vegan-friendly restaurants on my list. It had been six years since I was last in the city . . . I had four days to make up for six years!
1ST DAY: FRIDAY
I walked downtown to see The High Line. While there, it was so hot and I was so hungry that I picked up a Jasmine Nectarine "Peace Pop" (popsicle) from People's Pops, one of the pop-up style vendors along  The High Line. It was pretty good, but nothing special.
LUNCH:
PEACEFOOD CAFE
41 East 11th Street
West Village, NYC
$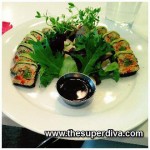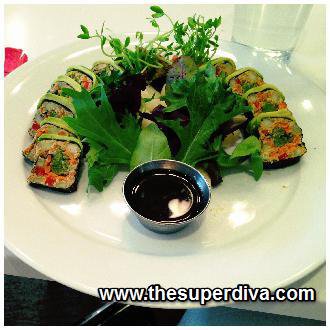 About:
A Vegan Kitchen and Bakery in Greenwich Village with another location on Amsterdam and 82nd Avenue
What I Ate:
Green Lemonade: Mixed Greens, Apple, Lemon, and Ginger Root
Sushi Roll: Walnut Pate, Seasonal Julienne Vegetable Sushi Roll with a Jicama-Carrot Salad and Avocado
Thoughts:
It was about 90 degrees and humid outside. The Green Lemonade, while delicious, was gone in seconds. The Sushi Roll looked like a huge portion! Even though I was hungry, I had no idea how I was going to finish it all . . . 10 minutes later, my plate was empty! The menu had many healthy vegan food choices. I was pleased. My food was tasty. I'd certainly go back the Peacefood Cafe the next time I visit NYC.
DINNER:
PURE FOOD & WINE
54 Irving Place
Grammercy Park, NYC
$$$
About:
A highly rated raw organic vegan restaurant!
What I Ate:
The Five-Course Chef's Tasting Menu
1st Amuse Bouche:
Micro Watermelon and Cucumber with Aged Balsamic
1st Course:
Red and Green Baby Romain Salad with Tarragon Buttermilk Dressing: Grapefruit, Avocado Mouse, and Crispy Shallots
2nd Course: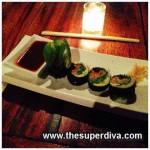 Cucumber Gazpacho: Black Garlic Oil and Strawberry Radish Relish
3rd Course:
Philly Roll: Avocado, Kimchi, and Cashew Cheese, Tatsoi, Hijiki, Scallions, and Sweet Garlic Chili Barbeque Sauce
4th Course:
Cauliflower Couscous with Pickled Persian Cucumbers: Pistachio, Almond, Dried Fruits, Mint, and Moroccan Tomato Jus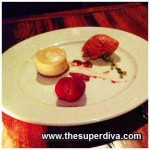 2nd Amuse Bouche:
Blackberry with Lemon Balm Syrup and Lavender
5th Course:
Lemon Cheesecake: Creme Fraiche, Strawberry Jam, Strawberry-Rhubarb Sorbet
Thoughts:
Divine! Based on the portions, I was really worried that I would still be hungry by the end. The fourth course left me wondering where I would put dessert. I ate everything on every plate. The sauces were all incredible. I could take a bath in the Sweet Garlic Chili Barbeque Sauce from the Philly Roll (3rd Course). I was impressed and satiated. You will find me there within hours of my next trip to NYC!
2ND DAY: SATURDAY
LUNCH:
BLOSSOM
187 9th Avenue
Chelsea, NYC
$$
Hmmm. A highly rated vegan restaurant with two other locations in the city. I had the Portobello Panini. It wasn't very good. Not even the fries were cooked evenly. I left most of it on the plate. Also, I'm pretty sure the chairs were leather. A vegan restaurant with leather chairs?! I do not know why this place has such good reviews. I was unimpressed, disappointed, my stomach was not happy, and I left hungry! Ugh!
LUNCH DESSERT:
'SNICE
45 Eighth Avenue
West Village, NYC
$
A vegetarian eatery. Apparently, their known for their vegan baked goods. I bought a chocolate cupcake with sprinkles. I took two bites. It was dry. If a dessert isn't very good, I won't keep eating it. I workout so I can eat good food and my sweet tooth is picky.
EMERGENCY GREEN JUICE STOP:
ORGANIC AVENUE
1 West Eighth Street
Greenwich Village, NYC
$$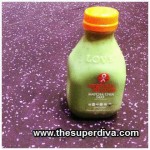 About:
Sells organic cold-pressed juices, raw food cleansing programs, snacks, and beauty and lifestyle products
What I Bought:
Cucumber Mint and Matcha Chia Glow drinks, and Raw Lemon Ginger Macaroons
Thoughts:
I LOVE this place. I found it by accident. I was so disappointed and feeling a little queasy from lunch that I was jonsing for some green juice. Then, this place just appeared! I almost squealed out loud when I saw all the green juices in the window. Their cucumber mint juice hit the spot. It almost made me forget how bad lunch was . . . almost.
LATE NIGHT DINNER/ SNACK:
MAOZ VEGETARIAN
36 Union Square
NYC
$
About:
A "fast-service" falafel and vegetarian restaurant
What I Ate:
Hummus with Veggies
Thoughts:
I discovered Maoz in Berkeley (this location has since closed) a couple of years ago. I had gotten a little taste of their falafel as I was wandering around Times Square that afternoon. They were open super late and I knew their food was good. 'Nuff said.
3RD DAY: SUNDAY
BRUNCH:
SARABETH'S
381 Park Avenue South
NYC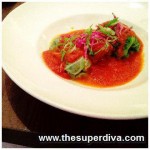 About:
A regular restaurant known for their brunch menu.
What I Ate:
Vegetable Enchiladas (No Cheese!): Quinoa, Seasonal Vegetables, and Chipotle Sauce
Thoughts:
The only reason I ate here was to have brunch with friends. Even though there was a lack of vegan options, I was pleasantly surprised. The enchiladas were wrapped in steamed cabbage leaves! Aside from the quinoa, it was low in carbs and calories. The chipotle sauce was so good that when they tried to clear my plate I got upset because I wanted to make sure I got every last drop of sauce!
I was in town for a gay wedding during gay pride! I got caught among the hoards of people watching the parade. I wanted to go to Pure Food and Wine's Cafe, One Lucky Duck, but they had moved (recently?) and both Apple and Google Maps weren't helpful. I finally caved in, hopped on the subway, and somehow got lost when I emerged at street level. I did a quick search for vegan restaurants and ended up at Quintessence.
LATE LUNCH/PRE-WEDDING DINNER:
QUINTESSENCE
263 E 10th Street
East Village, NYC
$$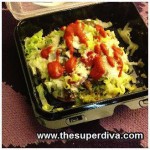 About:
Organic, vegan and raw!
What I Ate:
Tofu Hand Roll
Tostada: Refried Beans, Guacamole, Lettuce, Tomato, Pickled Jalapeno, Sour Cream, and Nut Meat
Thoughts:
After getting lost and having under an hour to make it back to the hotel and change for the wedding, I was in such a hurry. I ate the hand-roll as I got dressed in the hotel room and the tostada upon my return from the wedding. Both were a pleasant surprise! Thank goodness I got lost and found a new raw vegan restaurant. If you find yourself in the East Village, make sure you check out Quintessence. The food is worth it!
4TH DAY: MONDAY
LUNCH:
CANDLE CAFE
2724 Broadway
Upper West Side, NYC
$$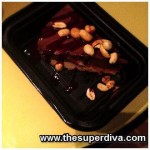 About:
Organic Vegan Cafe with two other locations on the Upper East Side (Candle Cafe and Candle 79)
What I Ate:
Summer Rolls: Pickled Cabbage, Carrots, Zucchini, Cilantro, BBQ-Ginger Seitan, Wrapped in Rice Paper, and a Spicy Peanut Sauce
Steamed Seitan Dumplings: Seitan, Onion, Leeks, Baby Bok Choy, Sesame-Ginger-Soy Sauce
Peanut Butter Chocolate Mouse Pie: Chocolate Mousse and Peanut Butter, Berry Coulis and Salted Peanuts
Thoughts:
A couple of years ago in Whole Paycheck (Foods), I discovered Candle Cafe when I bought their frozen vegan macaroni and cheese. I later received the Candle Cafe Cookbook for Christmas. Like most of my cookbooks, I've never actually made any of the recipes in the book. I didn't intend to go out of my way to visit Candle Cafe. Luckily, they happened to be around the corner from my parents old NYC apartment thirty years ago. I ate the summer rolls and the seitan dumplings in the hotel lobby and the mouse pie on the plane. There was nothing special about the summer rolls, but I really liked the steamed seitan dumplings! Maybe it was the airplane atmosphere, but the mouse pie was a let down. It tasted bland. Neither the chocolate nor the peanut butter stood out. While I am glad I went to Candle Cafe, the food was OK, and I probably won't return unless I just happen to be in the neighborhood again.
© 2013, the superdiva, dk. All rights reserved. www.thesuperdiva.com