It is that time of year when if you planted zucchini, your garden starts to give you a bumper crop! Zucchini is such a versatile vegetable. It can work in both sweet and savory dishes. Using a julienne peeler, you can make noodles or you can slice them for chips, chop one up for taco fillings, grate them for breads, and even shred them for cookies!  The options are endless.

One of the women I hike with, Kristin, gave me a zucchini from her garden last Sunday. I planted my zucchini plant much later than she did so I have yet to see any of my own. Her zucchini was about two feet long! I've heard about homegrown zucchini that large, but I had never actually seen one. I sliced half of it for dehydrated spicy garlic ginger sesame zucchini chips. Another 1/3rd of it was added to black beans, onions, garlic, and tomatoes for jicama "tacos." Since I had an event to go to this past weekend, I decided to try to use more of it in one of my all-time favorite foods: a cookie!
There is something about a cookie that is magical. It is a wonderful blend of flavors in a one, two, or no more than three bite slightly sugary treat that makes me smile. If you don't hear a "Mmmm!" from a cookie taster, then you've done something wrong. These cookies are not overly decadent. They were also just about all gone by the time I left the party! I love bringing cookies to a party and coming back with an empty container!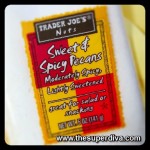 SPICED CHOCOLATE CHIP ZUCCHINI PECAN COOKIES
Prep Time: 10-15 min
Cook Time: 12 min
Yields: About 3 dozen
INGREDIENTS:
1/4 c Canola Oil
3 tbsp Olive Oil
1 c Coconut Sugar
1/4 c Flaxseed Mixture
1 c Grated or Shredded Zucchini (a food processor will do this is in seconds with the grating blade!)
2 c All-Purpose Flour
1 tsp Baking Soda
1/2 tsp Ground Cloves
1 tsp Cinnamon
1 tsp Ground Ginger
1/2 tsp Allspice
1/2 c Chocolate Chips
1/2 Trader Joe's Sweet and Spicy Pecans (candied pecans will work, but these specific pecans add a great dimension to the overall flavor)
INSTRUCTIONS:
1. Pre-heat oven to 375 degrees
1. In a mixer, combine Oils and Coconut Sugar
2. Add flaxseed mixture, stir
3. Add zucchini, stir
4. In a separate bowl, combine Flour, Baking Soda, Cinnamon, Ginger, and Allspice
5. Mix half of the flour mixture into the oil mixture and then add the other half and mix to combine
5. Throw in the Chocolate Chips and Pecans until the pecans have been broken up into large pieces, about 15-20 seconds with a KitchenAid Mixer (with the paddle attachment)
6. For easier handling of the dough, you can chill it for at least an hour, but if you are in a hurry and/or impatient like me, it isn't necessary.
7. Drop rounded tablespoonfuls onto a cookie sheet (with parchment, a silpat, or greased it is your choice!). I like to use a cookie scooper . . . it is sooo much easier!
8. Bake for 12 minutes making sure to rotate the pan halfway through so that they cook evenly. They should be golden brown on the bottom.
9. Let cool for at least 15 minutes.*
10. Enjoy!
*I find cookies with so many different flavors taste better when you let them cool completely. Think of it like making a sauce and letting it simmer for an hour to combine the flavors. If you don't believe me, try a warm cookie fresh out of the oven and then try one after about 20 to 30 min when it has completely cooled.
© 2013, the superdiva, dk. All rights reserved. www.thesuperdiva.com