Do you have zucchini in your garden? In your kitchen? Can you keep with the yield? I don't have any zucchini yet, but when one of the women I hike with, Kristin, gave me a two foot long zucchini, I was able to make four different dishes with it. I'm pretty sure it lasted over a week in my fridge. I can't imagine having to eat more than one zucchini a week!

In my backyard, it is also apple season. We pick as many as we can before the squirrels and other riff-raff help themselves. I found myself in a baking mood with a plethora of apples, zucchini, and a Costco sized bag of carrots. Carrot cake, mini apple pies, and zucchini muffins were all options I had thought about.
After going through all of my ideas, I decided why not combine everything into a cupcake? Cake is not my thing. It never has been. As a kid, the frosting was always the best part. On the rare occasion that I bake cupcakes, I make minis. That way, I can satisfy my sweet tooth in two bites with a minimal amount of guilt and more frosting than cake!
The frosting makes good use of my Vegan Nutella recipe. I had some of the leftover "Notella" with some strawberries last night. *smacks lips* They are so good together! It goes great with bananas too! After I made the frosting, I was eating so much of it that I had to consciously stop myself to make sure I had enough to frost my mini cupcakes! I hope you enjoy this recipe. It is certainly well worth the effort. *smacks lips and thinks about "tasting" some more frosting* 😛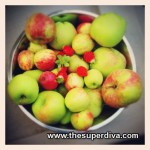 CARROT APPLE ZUCCHINI MINI CUPCAKES WITH CHOCOLATE HAZELNUT CREME FROSTING
Prep Time: 15 min (including shredding the carrots, apples, and zucchini
Cook Time: 12 min
Cooling Time: About an hour
Yields: About 48 mini cupcakes
Equipment Needed: Food Processor with Shredding Blade and Mixer
INGREDIENTS:
1 c Flaxseed Mixture (1/4 Flaxseed, 3/4 c Water)
2 c Coconut Sugar
1 c PLUS 2 tbsp Canola oil
2 1/2 c All-Purpose Flour
1 1/2 tsp Baking Soda
2 tsp Baking Powder
2 tsp Ground Cinnamon
1 tsp Ground Cloves
1 tsp Ground Allspice
2 tsp Ground Ginger
1/2 tsp Ground Nutmeg
4-5 c Finely Shredded Carrots (2 c carrots before shredding), Apples (2 medium apples), and Zucchini (2 1/2 organic store-bought zucchini which are fairly small)
1 c chopped pecans, optional
INSTRUCTIONS:
1. Pre-heat oven to 350 degrees
2. Using a mixer, thoroughly combine flaxseed mixture and coconut sugar
3. Add canola oil, mix
4. In a separate bowl, combine flour through nutmeg
5. Add 1/2 the flour mixture to the flaxseed/sugar mixture, stir
6. Add the second half to the flour mixture, stir
7. Add the shredded carrots, apples, zucchini and nuts.
8. Using a tablespoon or cookie scoop, fill a mini cupcake pan with the batter. You can fill each one just below the top of the liners.
9. Bake for 12 minutes or until a toothpick inserted into the centers come out clean
10. Let cool for about 5 minutes before moving them to a wire rack.
11. If frosting the cupcakes, make sure they have thoroughly cooled for at least 45 min to an hour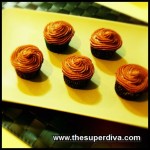 CHOCOLATE HAZELNUT CREME FROSTING:
Prep Time: 5 min
INGREDIENTS:
8 oz (1 cup) I Can't Believe Its Notella (Vegan Nutella)
1/2 cup Vegan Butter (Earth Balance), softened (if you think ahead of time)
5 c Confectioners' (powdered) Sugar
2 tsp vanilla extract
1/4 PLUS 1 tbsp Califia's Toasted Coconut Almond Milk (or your favorite non-dairy milk)
1. Combine all ingredients in a mixer until frosting is light, slightly shiny, and fluffy, About 2 minutes
2. Taste and taste some more . . . maybe save some for the cupcakes *smacks lips*
3. Frost cupcakes after they have cooled
4. Enjoy!
© 2013, the superdiva, dk. All rights reserved. www.thesuperdiva.com